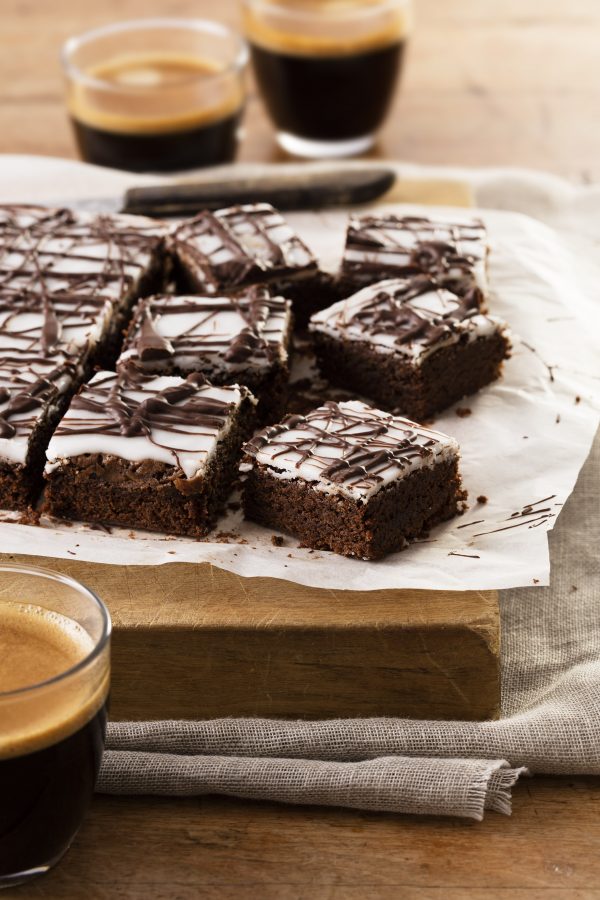 You can never have too many brownie recipes and this one is fast becoming a firm favourite.  The combination of mint and chocolate is always a winner, plus it is so easy to make.
Ingredients
125g butter

100g dark chocolate, roughly chopped

2 eggs

3/4 cup sugar

1/2 cup flour

1 tablespoon cocoa

1/4 teaspoon peppermint essence

1 cup icing suga

2 tablespoons neutral flavoured oil e.g rice bran

1 tablespoon milk

3/4 teaspoon peppermint extract

75g dark chocolate

1 tablespoon butter
Method
Preheat the oven to 170 C and line a 28 x 18cm slice pan with baking paper.
Gently melt the butter and chocolate together.
In a mixing bowl beat the eggs and sugar together until pale and creamy.
Mix the chocolate mixture into the eggs along with the flour, cocoa and peppermint essence.
Pour the batter into the prepared tin and bake for 25 minutes until the brownie feels firm.
Allow the brownie to cool for 30 minutes or so.
Combine the icing sugar, oil, milk and peppermint essence together in a small bowl and mix well. The mixture should be soft but not runny, add extra icing sugar if you need to.
Spread the icing over the brownie and allow to set.
Gently melt the 75g dark chocolate with the 1 tablespoon of butter and drizzle over the icing.
Once the chocolate has set, cut into pieces and store in an airtight container in a cool spot.  I like to eat it straight from the fridge.