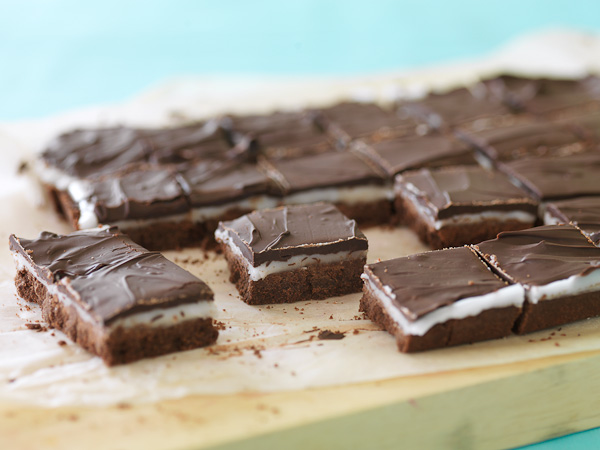 Ingredients
125g butter

1 teaspoon vanilla extract

4 tablespoons icing sugar

1 3/4 cups flour

2 tablespoons cocoa

320g icing sugar

1 tablespoon neutral flavoured oil eg rice bran oil

1/4 cup milk

1/2 teaspoon peppermint essence

250 g dark chocolate
Method
Preheat the oven to 180 C.
Beat the butter, vanilla and 4 tablespoons of icing sugar until pale and creamy. Add flour and cocoa, mix well. The mixture will be very crumbly but this is exactly as it should be. Press the mixture into a slice tin firmly until it has compressed, bake for 12-15 minutes or until firm to touch. Remove from the oven and sit until just warm.
Lift the base out from the tin and place on a wire rack.
Mix together the 320g of icing sugar, vegetable oil, milk and essence. Spread over the slightly warm base. Allow the icing to set until firm.
Gently melt the chocolate and add a few drops of oil, this helps to keep the chocolate shiny.  Drizzle the chocolate over the base (make sure the chocolate is not too hot) and spread until smooth.
Once the chocolate topping is firm then cut into pieces.
The base will be very hard but if you use a solid knife it should cut into perfect shapes.