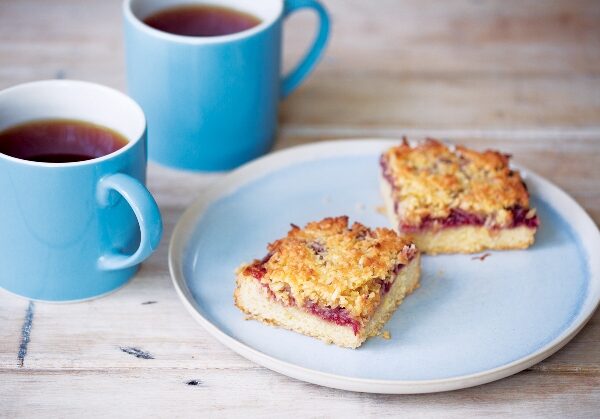 Ingredients
100g

butter

1/2 cup

sugar

1

egg

1 teaspoon

vanilla extract

2 teaspoons

finely grated lemon rind

1/2 cup

ground almonds

1 1/2 cups

flour

2 teaspoons baking powder

Topping

2 eggs

1/4 cup sugar

1 cup desiccated coconut

3/4 cup thread coconut

1/2 cup

raspberry jam
Method
Preheat the oven to 180 C.
Line a 30 x 20cm slice tin with baking paper.
Beat the butter and sugar together until pale and creamy.  Mix in vanilla,  egg and lemon, mix well.
Add combined almonds, flour and baking powder and mix to a soft dough.
Press the dough into the lined tin.
Beat together the eggs and the sugar for the topping and then stir through the coconut.
Spread the slice base with jam, add a little more than the half cup if you want a thicker layer.
Spoon over the coconut topping.
Bake for 25 minutes until golden and firm.