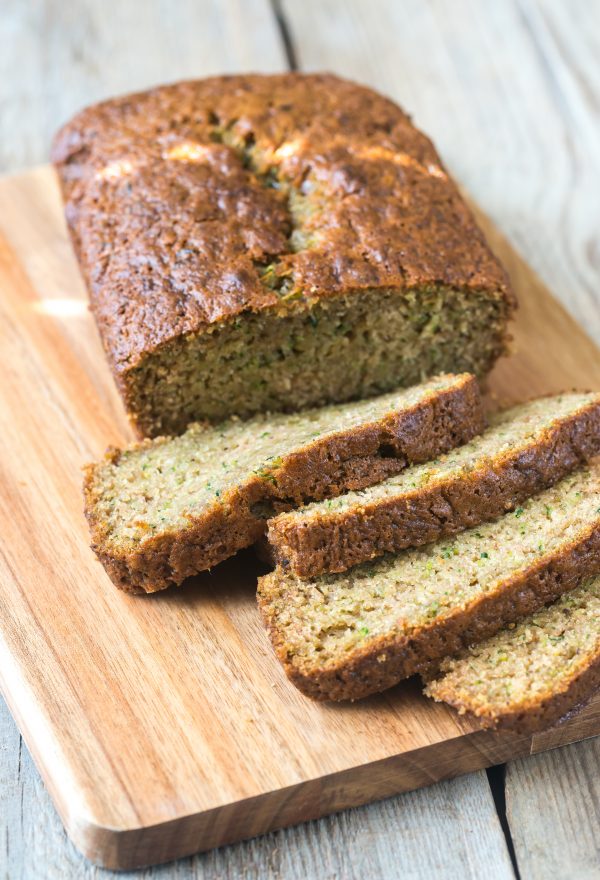 This moist loaf is the perfect way to use up excess courgettes or those that have grown into marrows.
The original recipe came from a friend's grandmother in the USA, it contains 2 cups sugar which I have reduced.  Feel free to reduce this further if you wish.
Thanks to Betsy Rothbacher  from Massachusetts for the original recipe.
Yield:
Makes 1 large loaf.
Ingredients
3

eggs

3/4 cup

lightly packed brown sugar

3/4 cup

white sugar

1 cup

neutral flavoured oil

2 cups

pureed courgette/marrow (pureed in a blender)

2 1/2 cups

flour

1/2 cup

wheatgerm (for a nutty flavour try toasting the wheatgerm in the preheated oven for 5 minutes)

3 teaspoons

cinnamon

1 teaspoon

salt

1 teaspoon

vanilla extract

1 teaspoon

baking soda

1 teaspoon

baking powder

1/2 - 1 cup

chopped walnuts (optional)
Method
Preheat the oven to 160 C and line a large loaf tin (approximately 30cm long) with baking paper.
Beat eggs and sugars until pale and creamy.  Mix in the oil and then the remaining ingredients.
Pour the mixture into the prepared loaf tin and bake for 30 minutes before increasing the heat to 180 C and baking a further 30 minutes or until the loaf tests cooked when a skewer inserted comes out clean.
Allow to cool for 10 minutes in the tin before turning out onto a wire rack to cool completely.
Tip:  Pureed courgette/marrow can be frozen and then thawed as needed.