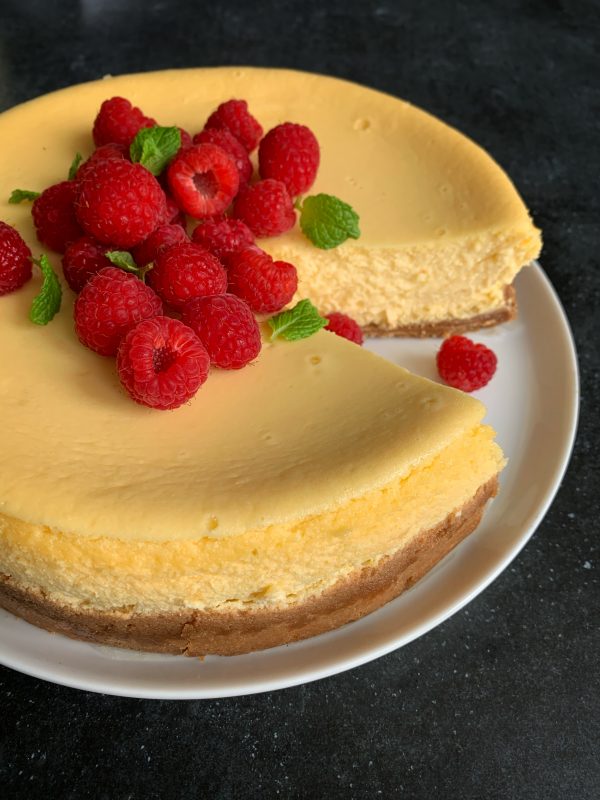 Kathy Paterson tells me she has been making this cheesecake for years and has no idea where the original recipe came from. Ben Hurst, a former rugby player for Canterbury gave her a similar one, but Ben's uses lime zest and juice and he serves his cheesecake with a raspberry sauce.
Kathy has kindly shared her recipe with us.
It is creamy and luscious and perfect for entertaining.
It is a recipe that works well made the day before eating.
Check out Kathy's website with her Let Bake Together recipes.
*Note from Helen, I deviated on the garnish of the cheesecake photographed to fresh raspberries and mint leaves.
Also with my oven after 30 minutes I increase the oven temperature to 140 C.
Ingredients
250g (8.81oz) digestive biscuits, crushed

100g (3.52oz) butter, melted

150g (5.29 oz) white chocolate, broken into small pieces

150ml (5.072 fluid oz) cream

750g (26.4oz) cream cheese

1 scant cup caster sugar

finely grated zest and juice of 2 lemons

4 large eggs

To finish 150ml (5.072 fluid oz) cream, whipped 125g punnet blueberries 1 large punnet strawberries, hulled (halved if large)

a few very small mint leaves 1 lemon
Method
Heat the oven to 120 C. Line the base and sides of a 23cm springform
tin with baking paper.
Mix together the crushed biscuits and melted butter. Press into the
base of the prepared tin then place in the fridge while you make the
filling.
Place the white chocolate in a heatproof bowl over a saucepan of
gently simmering water, ensuring the bowl doesn't touch the water.
Allow the chocolate to melt then pour in the cream and gently mix to
combine. Set aside.
Place the cream cheese and sugar in the bowl of an electric mixer and
beat until smooth. Scrape down the sides of the bowl a couple of
times.
Add the lemon zest and juice (you should have about ¼ cup of juice)
and beat in. Beat in the eggs, one at a time. Reduce the speed to low
and add the chocolate mixture and mix to combine.
Remove the base from the fridge and pour in the filling. Place in the oven and bake for 1-1 ¼ hours or until the mixture has nearly set. The centre with still be quite wobbly. Remove from the oven and cool then cover and place in the fridge until firm.
To serve, place the cheesecake on a large serving plate.