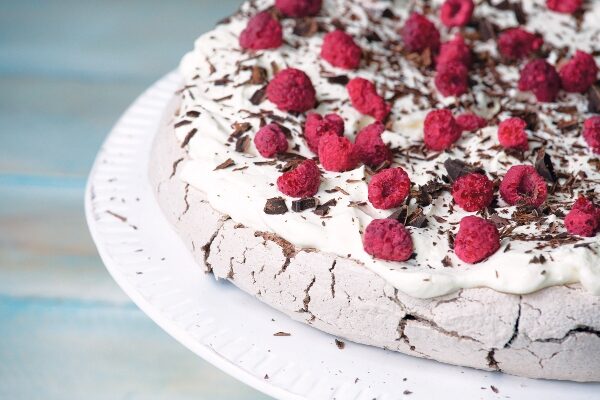 Prep time:

15 minutes

Cook time:

1 hour 15 minutes
Ingredients
6

egg whites

1 1/2

cup caster sugar

2 teaspoons

cornflour

1 teaspoon

balsamic vinegar

2 tablespoons

cocoa*

50g

dark chocolate, finely chopped

300ml

cream

fresh or freeze dried raspberries
Method
Preheat the oven to 140 C. Line a baking tray with baking paper and draw a 22cm circle outline with a pencil, a cake tin is a good guide for this.  Make sure the pencil circle is facing the tray.
Place the egg whites into the bowl of a cake mixer (ensuring bowl and whisk are perfectly clean). Whisk the egg whites until soft peaks form when the beater is lifted from the mixture. Continue to mix, gradually adding the sugar  a tablespoon or so at a time and waiting between each addition, add cornflour with the  last of the sugar.  Continue to mix until you can't feel any sugar when a small amount of mixture is rubbed between your index finger and thumb. Add the vinegar at the end of mixing (total mixing time should take no more than 12 minutes, excess beating can cause faults).
Lift the whisk from the bowl and sift over the cocoa and chocolate.  Using a metal spoon gently fold the cocoa through the meringue until you have a smooth light chocolate colour.
Pile the meringue onto the baking paper keeping about 1cm within the outline (chocolate pavlova tends to spread a little during cooking).
Place the tray in the oven and immediately reduce the heat to 120 C.  Bake for 1 hour 15 minutes before turning off the oven and leaving the pavlova to sit until the oven cools. After the first 20 minutes you can wedge the door open slightly using a wooden spoon.
Turn the cooled pavlova out onto a plate and top with whipped cream and raspberries.
Invert pavlova onto a serving plate, peel off baking paper and top with whipped cream and fruit.
* In my recipe testing the Dutch processed cocoa pavlovas collapsed.  There are recipes on the web that use this but I didn't find it successful.
I am happy to hear otherwise from you.
Helen