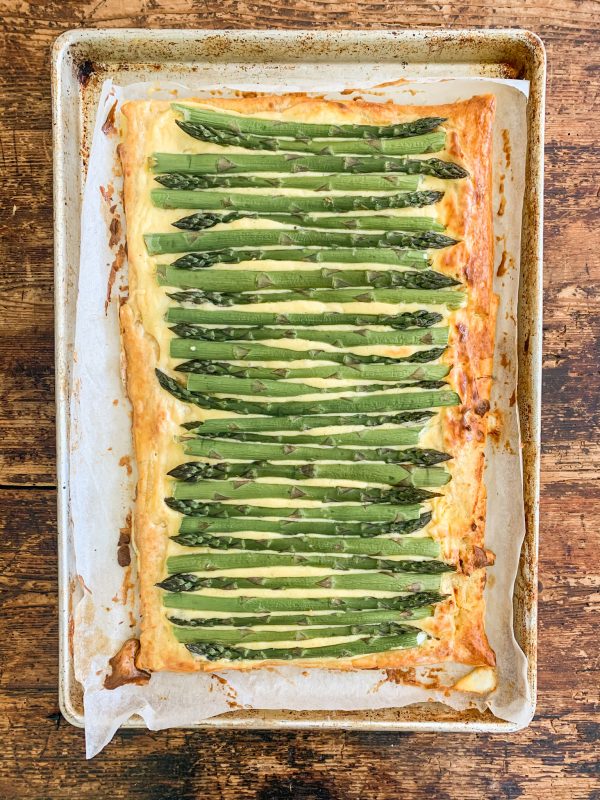 This tart is so quick and easy to make and tastes so good.  The recipe is not unique,  it features on many recipe sites and for a good reason, it is great!
Make it when asparagus is at its best, with both price and quality.
Ingredients
1 1/2 sheets (280g)

Butter puff pastry

250g

cream cheese

2

egg yolks

1/2 cup (50g)

grated Parmesan cheese

1 teaspoon

finely grated lemon zest

salt and freshly ground black pepper

2 bunches, (about 26-30 spears)

slender asparagus spears

1

egg yolk
Method
Preheat the oven to 180 C (350 F) fan bake.
Place a sheet of baking paper in a roasting dish and cover with 1 1/2 sheets pastry with an overlap of 1cm, press the pastry sheets together to seal.  Prick the pastry all over with a fork.
Bake the pastry for 10 minutes.
While the pastry is cooking blitz cream cheese, egg yolks, Parmesan cheese and lemon zest together in a blender or food processor.
Spread the cheesy mixture over the base leaving about 1cm around the edges.  Don't worry if the pastry looks a bit puffed, just prick it again with a fork and then cover with the cheese.  Season with salt and freshly ground black pepper.
Snap the bases off the asparagus spears and arrange in a single layer across the tart, alternate the side that the spears face.
Brush the pastry edges with egg yolk and then bake for 15 minutes until the pastry is golden and the asparagus just tender.
Serve warm or at room temperature.
You can make this ahead of time and reheat before serving.