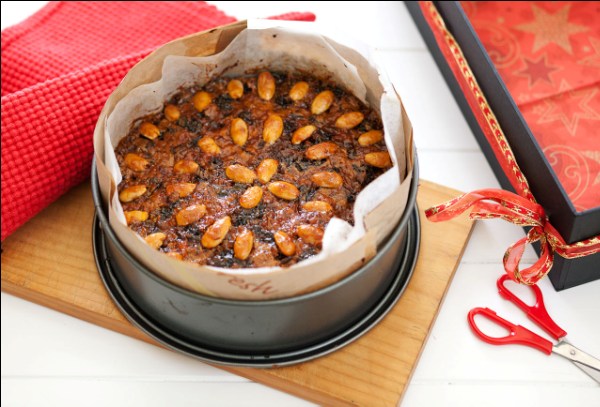 Ingredients
250g

Tasti fruit mix medley

100g

Tasti dried apricots

50g

Tasti glace green cherries

50g

Tasti glace red cherries

300g

raisins

300g

sultanas

1 1/2 cups

brandy

1/2 cup

orange juice

1 teaspoon

vanilla essence

2 cups

self raising flour

1 teaspoon

mixed spice

60g

Tasti blanced almonds

1/4 cup

apricot jam
Method
Place fruit mix medley and apricots in the bowl of a food processor and pulse until roughly chopped. Add cherries and pulse again - just until cherries are very roughly chopped.
Place the mixture into a large glass or ceramic bowl and add raisins and sultanas.  Pour over brandy, orange juice and vanilla, cover and leave to sit overnight.
The next day, preheat the oven to 150 C.
Line a 22cm round cake tin with brown paper and baking paper.
Sift over the flour and spice and mix until well combined.  Spoon into prepared tin and smooth the surface.  Arrange almonds over the top of the cake.
Cook for 2 1/2 hours until the cake is firm and pulling away from the edges, cover if the top browns too quickly.
Warm the apricot jam and brush over the surface of the cake, cook a further 5 minutes.
See how to store and care for your Christmas Cake.