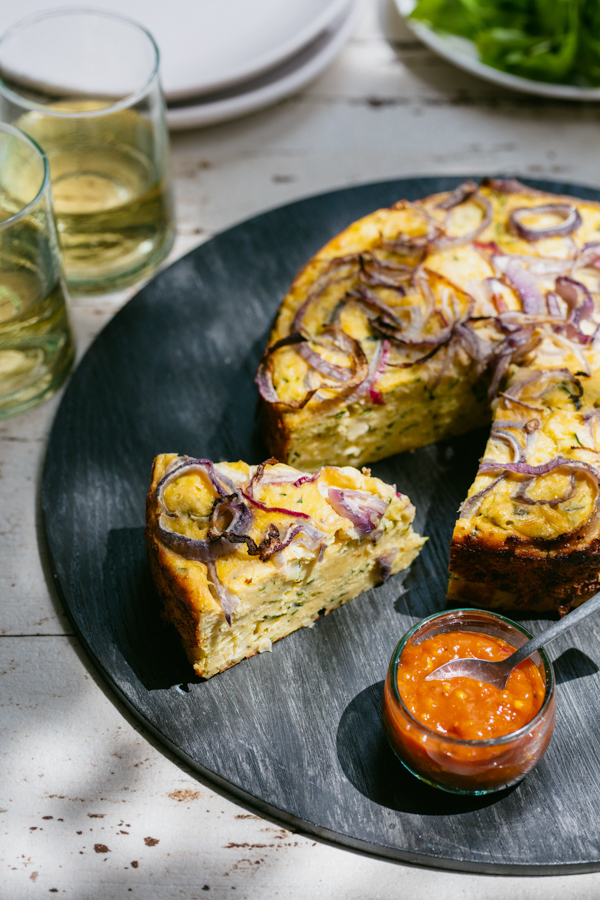 Warm or at room temperature, a slice of this with your favourite chutney is great for lunch, dinner and picnics.
By
Ingredients
2 tablespoons

olive oil

3

rounded cups grated courgettes

2

cloves garlic, finely chopped

2 teaspoons

finely grated lemon rind

1 teaspoon

dried dill tips

1 tablespoon

finely chopped fresh mint leaves

4

eggs, lightly whisked

200g (7 oz)

ricotta cheese

1/2 cup grated Parmesan cheese

100g (3.5 oz)

feta cheese, crumbled

1 cup self-raising flour

1 small red onion, thinly sliced into rings
Method
Preheat the oven to 180 C (350 F). Grease and line a 22cm (8 inch) spring form cake tin.
Heat the oil in a large frying pan over a medium heat. Add the courgette, garlic and lemon zest, cook for 8-10 minutes stirring at times until the courgette starts to colour and soften. Stir through the dill and mint and season generously with salt and freshly ground black pepper.
Mix the eggs, ricotta, Parmesan and feta in a large bowl. Mix in the courgettes and then the flour.
Pour the mixture into the cake tin, smoothing the surface.
Arrange the onion slices over the cake.
Bake for 30-40 minutes until the cake feels firm and has started to colour.
Allow to cool for 10 minutes in the tin before carefully turning out onto a plate.
Serve warm or at room temperature.