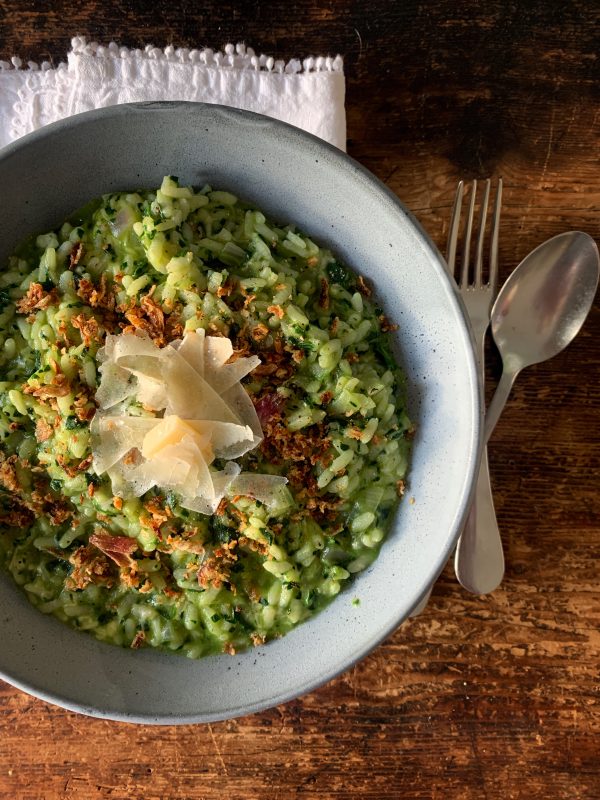 Ingredients
1 bag spinach, stalks removed

¼ cup fresh mint leaves picked off stem

½ cup loosely packed parsley

50g butter

1 red onion, finely chopped

2 cloves garlic, chopped

300g Arborio rice

½ cup dry white wine

1 litre vegetable stock, heated

1 teaspoon grated lemon zest

100g (1 cup) grated Parmesan cheese

¼ cup crisp fried shallots
Method
Place the spinach leaves into the bowl of a food processor along with the parsley and mint, add about ¼ cup water and then blitz until finely chopped.
In a saucepan melt the butter and gently cook the onion and garlic over a medium heat until the onion softens.
Add the rice to the pan and stir to coat with the butter, cook for a minute of two before adding the wine, allow it to bubble and reduce.
Start to add the hot stock, a ladle at a time, stirring as you go. Continue to add stock and stir regularly for 20 minutes or until the rice is just tender.
Add the spinach and herbs along with the lemon zest and most of the cheese, leave a little cheese for garnish.
Distribute between 4 bowls and top with crisp fried shallots and remaining Parmesan cheese.