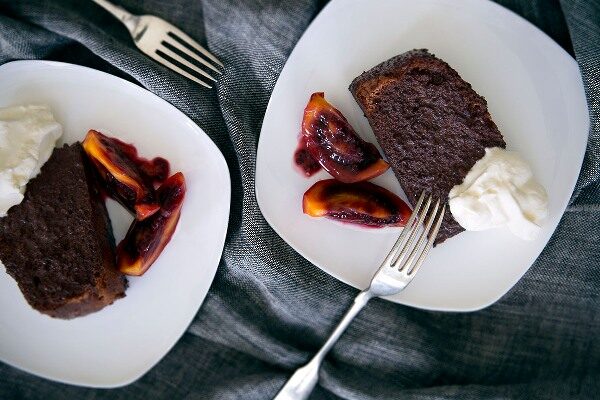 Ingredients
3/4 cup

caster sugar

5

eggs, separated

1/2 cup

milk

1 teaspoon

vanilla extract

1 cup

flour

1 1/2 teaspoons

baking powder

1/3 cup

cocoa powder

3/4 cup evaporated milk

3/4 cup cream

100g dark chocolate, chopped into small pieces

395g can sweetened condensed milk
Method
This cake is a particular favourite of my middle child and it has been her birthday cake for the past two years.
Make sure you drizzle over the liquid while the cake is still hot.
Preheat the oven to 170 C.   Line a 30cm round cake pan with baking paper.
Place 1/2 cup of sugar and the egg yolks into a mixing bowl and whisk or beat with an electric mixer until pale and creamy. Mix in the milk and vanilla.
In a separate bowl sift together the flour, cocoa and baking powder.
Gently mix the dry ingredients to the egg and sugar mixture.
Using an electric mixer beat the egg whites until fluffy and then gradually add the remaining 1/4 cup sugar.  Beat the egg whites until smooth and glossy and then gently fold into the cake batter.
Spoon the batter into the prepared tin, smooth the surface to ensure it is even and then bake for 35 minutes or until a skewer inserted comes out clean.
While the cake is cooking heat the evaporated milk and cream together in a small saucepan until just about boiling.  Remove from the heat and add the chocolate.  Leave to sit for a few minutes then stir until smooth and mix in the condensed milk.
Ten minutes after the cake comes out of the oven prick holes over the surface with a skewer. Slowly drizzle over the chocolate milk allowing the cake to absorb the liquid before adding more.  Reserve about a quarter of the liquid to serve with the cake.
Cover and refrigerate for at least 4 hours or overnight.
Turn the cake out onto a plate and cut small portions, serve with poached fruit such as tamarillos and a big dollop of softly whipped cream.