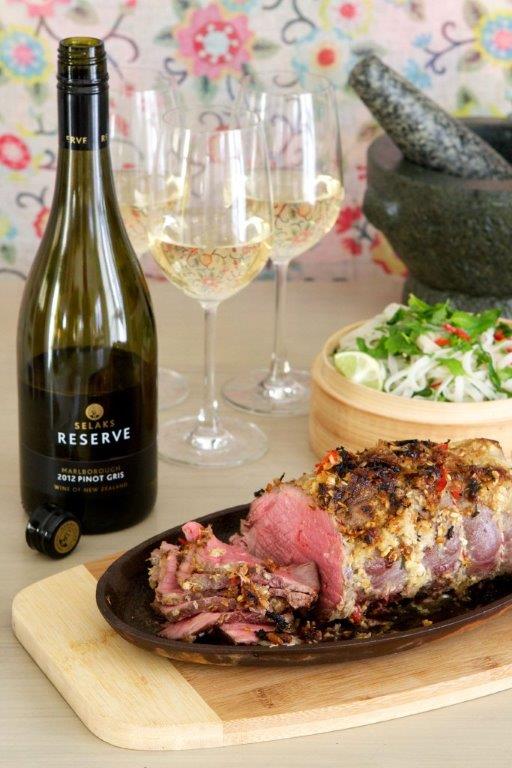 Ingredients
Paste:

1 cup chopped pineapple, tinned or fresh

3 cm lemon grass

1 thumb-sized piece fresh ginger

1 red chilli

1 Tablespoon palm sugar, grated (or brown sugar)

1 teaspoon salt

1 teaspoon sesame oil

800g - 1kg piece of rump steak (or two decent steaks rolled and strung together as I've done)

1 tablespoon rice bran oil

½ cup peanuts, lightly toasted and roughly chopped

2 red chillies – deseeded, finely chopped

1 small handful of mint, roughly chopped

1 small handful fresh coriander (stalks and leaves) roughly chopped

limes to garnish

Dressing:

2 tsp sesame oil

1 Tbs rice wine vinegar

2 Tbs lime juice

1 Tbs grated palm sugar
Method
you're craving a roast dinner but short on time, this is a great recipe to try. Rump is a tasty beef cut and tender too, if cooked fast and hot. Topped with this wonderful Thai-inspired ginger, lemongrass and pineapple paste, it rocks! Serve it with a comforting warm noodle salad to make this a zingy roast dinner.
Take your beef out of the fridge 30 minutes before you're ready to cook it – it cooks better from room temperature.
Preheat the oven to 220 C.
Make the paste by putting all of the ingredients (except the beef and rice bran oil obviously!) into a food processor, or mortar and pestle, and process until it forms a chunky paste.
Pat the beef completely dry using paper towels, then smear the paste over the surface.
Heat the rice bran oil in an oven proof pan on the stove top. Cook the beef on one side until brown, turn it over, then complete the cooking by transferring the pan to the hot oven for 20-30 minutes, which will cook it to medium rare.  To test, check it after 15-20 minutes by gently poking it – the meat should feel springy but firm, kind of like when you poke your chin (as opposed to the softness of your cheek).
When the beef is cooked to your liking, remove the pan from the oven and transfer the beef to a board to rest for 10-15 minutes. Cover it with a layer of tinfoil and a tea towel to keep it warm. While the beef rests you can make the noodle salad. When ready to serve, slice beef thinly.
To make the salad, cook the rice noodles by dropping into a pot of boiling salted water. Cook for 3 minutes or until noodles are soft but not soggy. Drain well.
Whisk the dressing ingredients together. Toss noodles in dressing until well coated. Add crushed peanuts, chopped chilli and fresh herbs. Toss again and serve up in small bowls, each with a wedge of lime and slices of the beef.