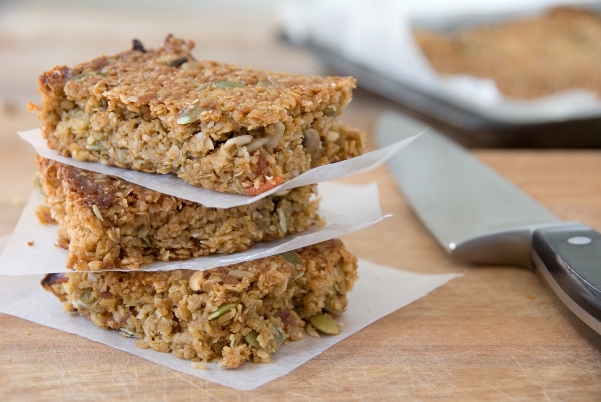 3 cups rolled oats
3/4 cup coconut thread
3/4 cup combined pumpkin and sunflower seeds
1/2 cup chopped dried apricots (NZ dried apricots have superior colour and  flavour)
1 cup flour
1 teaspoon baking powder
1 cup golden syrup
200 g butter
1/2 cup crunchy peanut butter
1 cup brown sugar
Method
Preheat oven to 160 C.
Combine dry ingredients in a bowl and mix well.
Heat the golden syrup and butter in a saucepan over a gentle heat, stirring at times, until butter is melted. Stir through the peanut butter and brown sugar.
Make a well in the dry ingredients and pour in the golden syrup mixture, stir until ingredients are well mixed.
Spoon into a slice pan approximately 30 x 25 cm and cook for 35-40 minutes or until golden and firm.
If under cooked this slice will be difficult to slice and will crumble.
If the top starts to brown too much but the slice is still soft then cover for the remaining cooking time.
Cool on a wire cake rack.