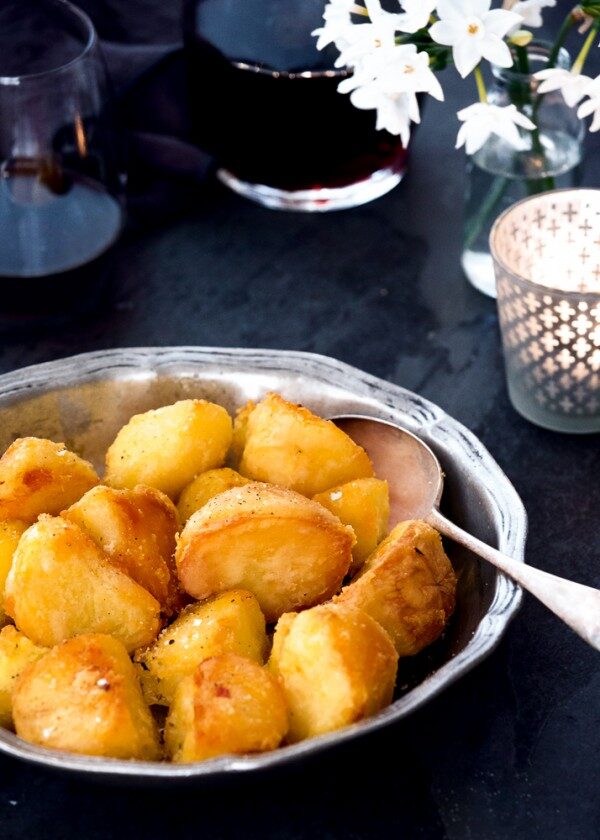 Ingredients
1.5kg

floury potatoes e.g. Agria

neutral flavoured oil

2 tablespoons flour
Method
Preheat the oven to 200 C (400 F).
Peel and chop potatoes,  place in a large saucepan and cover with cold water and a dash of salt.  Bring to the boil and cook for 6-7 minutes.
Drain the potatoes thoroughly and then return the pan to low heat to make sure all excess moisture has gone (make sure you don't burn them though).
Take the pan off the heat and sprinkle over the flour.
Place a lid on the saucepan and finding a surface that is suitable give the potatoes a few quick bang with the saucepan, this roughs up the edges of the potatoes and gives the flour something to stick to.
Pour enough oil in a roasting pan to cover the base with a depth of a few millimeters.
Place the roasting pan into the oven for a few minutes but take care not to forget that it is there.
Shaking off any excess flour, place potatoes in a single layer in the oil and roast for about 20 minutes, turning at times, until crisp and golden.