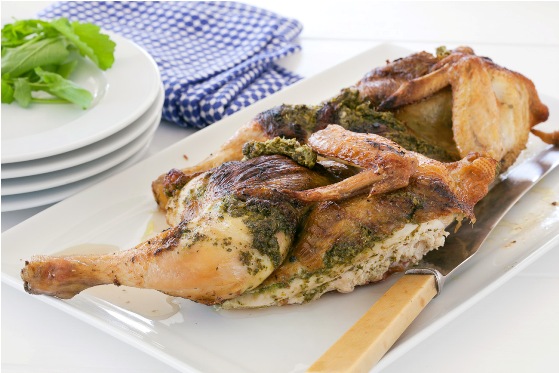 By
Ingredients
1

size 16 chicken

100g

butter

3

cloves garlic

1 teaspoon

ground cumin

1 teaspoon

sea salt

1

handful Italian parsley leaves

1

handful coriander leaves

1 tablespoon

chopped rosemary

finely grated rind of 1 lemon

freshly ground black pepper

olive oil
Method
Preheat oven to 200 C.
Using a sharp knife cut the chicken down the back bone and then press down on the breast to flatten the chicken out.
Place the butter, garlic, cumin, salt, herbs and lemon rind in the bowl of a food processor and pulse until the mixture forms a paste.
Season with black pepper.
Gently, slide your fingers between the chicken flesh and the skin in pockets.  Push the herb butter into the pockets and then massage the skin so that the butter is distributed over the chicken.
Rub the skin of the chicken with olive oil and sprinkle with salt and pepper.
Heat a griddle pan or frying pan over a high heat and cook the chicken breast side down for 7-8  minutes or until golden brown.  Turn the chicken over and place breast side up in an oven proof dish.  Continue to cook for a further 30 minutes until juices run clear when a skewer is inserted into the thickest part of the thigh.
Allow to rest for 10 minutes before serving.
Serve with perfect roast potatoes and a crisp green salad.