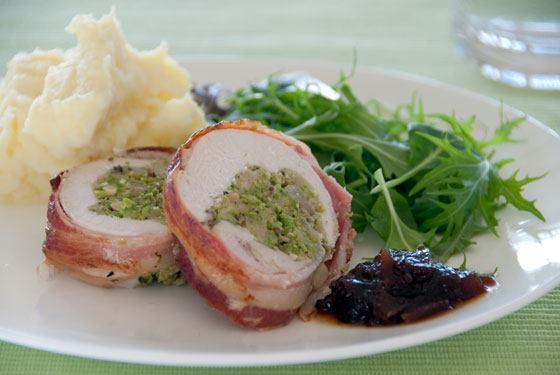 Serves 6
This is one of my favourite "maximum impact for minimum effort" luncheon or dinner party dishes. It can be made a day or so in advance, is incredibly economical and a dream to serve. It is adapted from a recipe by Celia Laity who is one of Taupo's most accomplished caterers. Don't be put off by the rolling of the bacon and chicken. It's easy!
Cathy
Ingredients
finely grated rind of 1/2 lemon

2 tablepoons

finely chopped fresh rosemary or basil

2 cups

frozen peas

1/2 cup

parsley leaves

1

egg, lightly beaten

1/2 cup

grated parmesan cheese

1/4 cup

pinenuts, lightly toasted

salt and ground black pepper

300g

streaky bacon

size 16 chicken, boned out, wings off (most supermarket butchery departments will do this for you at no charge)
Method
Preheat oven to 180 C.
In food processor, roughly whizz together garlic, lemon rind, rosemary, peas and parsley. Do not make mixture too smooth.
Fold beaten egg into breadcrumbs, then fold into pea mixture. Add parmesan and pinenuts. Mix well and season with salt and pepper.
Lie strips of bacon in vertical lines slightly overlapping – staggering one strip slightly higher next to one slightly lower (to get enough length to roll chicken).
Place chicken skin side down horizontally along bacon strips. Lay stuffing evenly down centre of chicken.
Taking one end of bacon, roll chicken around stuffing, using ends of bacon to criss-cross to secure chicken.
Place seam-side down on baking dish. Bake for 40 minutes.
Allow to stand for at least 10 minutes before slicing. Serve warm or at room temperature with a crisp salad and crusty bread.