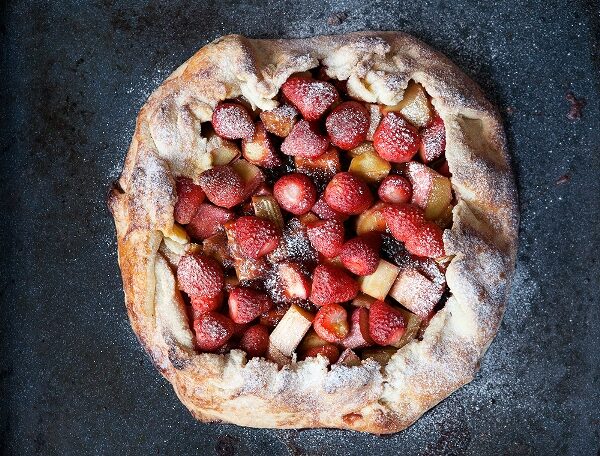 By
Ingredients
Pastry - can use bought sweet short pastry of course but this recipe is so good.

2 cups (290g or 10oz) flour

1/4 cup (60g 2oz) sugar

125g (4 oz) butter, well chilled and roughly chopped

1 egg, lightly whisked

1 tablespoon chilled water

4 medium sized stems pink rhubarb, chopped into approximately 2.5 cm (1 inch) chunks

4 tablespoons brown sugar

3 tablespoons strawberry jam

1 cup strawberries, fresh or frozen

I egg yolk, lightly whisked (for glazing the pastry)
Method
Place the flour and sugar into the bowl of a food processor.  With the motor running drop butter in piece by piece until the mixture resembles coarse crumbs.  Add the egg and pulse until the pastry forms a ball.  Add a little chilled water as needed to help the dough to bind.
Wrap pastry in plastic clingfilm and refrigerate until ready to use.
Preheat the oven to 190 C.
Toss the rhubarb in a bowl with the brown sugar and warm the jam until runny but not boiling.
Roll the dough out to a disc of approximately 30cm (12 inches)  in diameter.  Carefully transfer the pastry to a baking tray.
Arrange the rhubarb to cover all but 5cm (2 inches) of pastry around the perimeter of the disc.
Drizzle the jam over the rhubarb and then scatter over the strawberries..
Fold the remaining ;pastry over the fruit, pleating as needed.
Brush the pastry with the egg wash.
Bake for 25 minutes until pastry is golden and crisp.
Serve warm dusted with icing sugar.
See also our peach and raspberry rustic tart