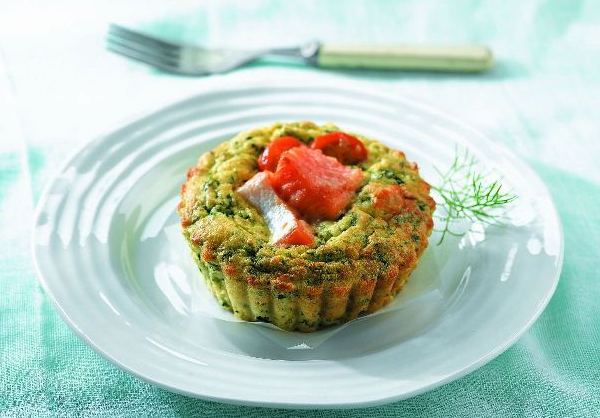 By
Ingredients
275g packet Regal Salmon Fresh Cuts Stirfry pieces

400g spinach

250g reduced fat ricotta

¼ cup rice flour

¼ teaspoon nutmeg

Freshly ground black pepper

6 eggs, yolks and whites separated

6 cherry tomatoes, halved

30g parmesan cheese, grated
Method
Preheat the oven to 180°C/350°F. Grease well 6 tartlet tins with reduced salt margarine or cooking spray. In a pan of boiling water, cook spinach leaves until wilted. Drain in a colander and rinse through cold water. Squeeze out excess water and then finely chop the spinach.
In a large bowl, mix together the spinach, reduced fat ricotta, rice flour, nutmeg and egg yolks. Season well with pepper to taste. In a separate bowl beat the egg whites until stiff peaks form. Fold in one third of the beaten egg whites into spinach and ricotta mixture, combining well. Using a metal spoon, gently fold in the rest of the egg whites until just mixed.
Spoon the mixture into the greased tart tins. Drop two or three pieces of the salmon on top and top with half a cherry tomato. Sprinkle with grated Parmesan cheese. Cook in oven for 12 minutes, until puffed and golden. Leave to rest for a few minutes, before removing from tin. Serve warm or cold.