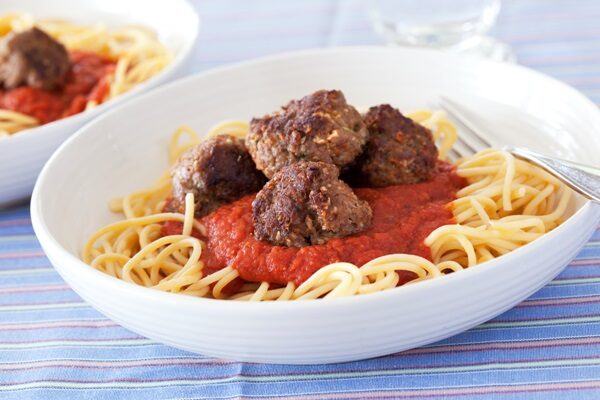 Ingredients
1/2 cup

fresh breadcrumbs (white or grainy bread is fine)

300g

beef mince

300g

pork mince

1 onion, finely chopped

1 small carrot, grated

1 courgette, grated

2 tbsp finely chopped flat-leaf parsley

1 egg, lightly whisked

400g spaghetti

sauce

1 onion, finely chopped

2 cloves garlic, finely chopped

2 x 400g cans

crushed tomatoes

1 teaspoon

sugar

1 tablespoon

tomato paste

1 teaspoon

dried oregano
Method
Combine the breadcrumbs, mince, onion, carrot, courgette, parsley and egg in a bowl, season with salt and pepper and mix well with your hands.
Form the mixture into balls a bit bigger than a walnut.
Heat a film of oil in a frying pan and fry meatballs in batches until well coloured and cooked through.
While the meatballs are cooking make the sauce by gently cooking the onion and garlic in a small frying pan in a film of oil until just soft.  Add tomatoes, sugar, tomato paste and oregano and simmer for 15 minutes.
At the same time cook the spaghetti in a large saucepan of boiling salted water until just tender.  Drain well.
Spoon the sauce over the pasta and top with meatballs.
Serve with chopped basil and shaved parmesan if you like.