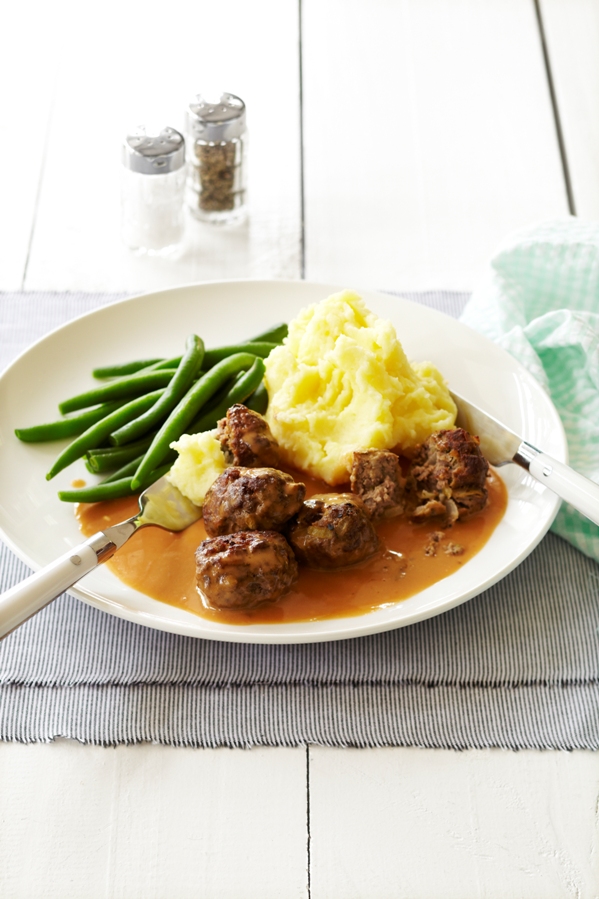 Ingredients
1 onion, finely chopped

½ cup mashed potato

¼ cup

fresh bread crumbs

500 grams beef mince

1 tablespoon chopped parsley

2 teaspoons dried dill

½ teaspoon freshly ground nutmeg

½ teaspoon allspice

1 egg

Sauce

2 tablespoons butter

2 tablespoons flour

1 cup beef stock

2 tablespoons cranberry sauce

125ml sour cream
Method
In Sweden these are called Kõttbullar. Traditionally they are served with lingonberry sauce, here I have used cranberry sauce instead.
Heat a little oil in large frying pan over a low heat and cook the onion for 6-8 minutes or so, until it is soft.
In a large bowl mix together the mashed potato, bread crumbs, beef mince,  parsley, dill, nutmeg, allspice, egg and onion.  Season well with salt and pepper.
With wet hands form the mixture into 20 walnut sized balls.
Wipe out the frying pan and heat another drizzle of oil over a medium heat . Fry the meatballs in batches, turning regularly, until they are brown, about 10 minutes. Once the meatballs are cooked, set aside and keep them warm.
Pour any excess fat from the pan and return to the heat, melt the butter, add the flour and stir over a gentle heat to make a roux. Pour in the stock and bring to the boil stirring constantly.  Allow to boil for 2-3 minutes before stirring in the cranberry sauce and then remove from the heat and stir in the sour cream.  Season to taste with salt and pepper.
Return the meatballs to the pan to coat them well in the sauce before serving with mashed potatoes and either steamed greens or a crisp green salad.