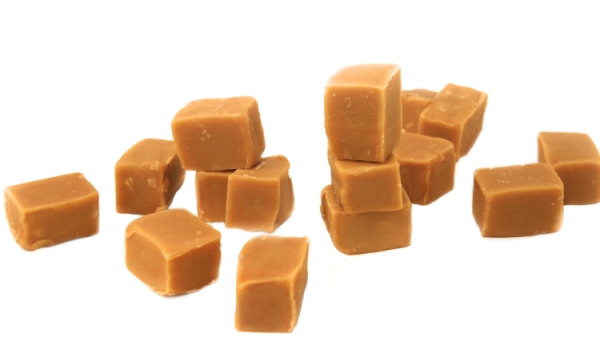 Ingredients
1 1/4 cups

full cream milk

2 1/2 cups

sugar

125g butter

1 rounded tablespoon golden syrup

1/2 can (200g) sweetened condensed milk

pinch of salt

1/2 teaspoon vanilla extract
Method
Stir milk and sugar in a heavy bottomed saucepan over a very gentle heat until sugar is completely dissolved.  To check on this rub a little mixture between your thumb and index finger, you should not be able to feel any grains.  Add the condensed milk and then
bring the mixture to a very gentle boil. Using a simmer mat on a very low heat is good for this.
Add butter,  golden syrup and salt.  Bring back to the boil and cook without stirring until mixture reaches the soft ball stage – 116 C on a sugar thermometer.  To test for this place a little mixture on a cold saucer, it should be able to be shaped into a ball once it cools.   This step can take as long as 45 minutes depending on how low your heat is.  Low heat is preferable as it prevents the mixture from burning at the base.
Once the soft ball stage is reached then remove from heat and beat with an electric mixer until fudge is almost set.  It will lose its gloss and start to form ribbons on the surface that take time to settle back into the mix.  Pour into a baking paper lined 25 x 15cm dish.  Cut into 24 squares when cold.