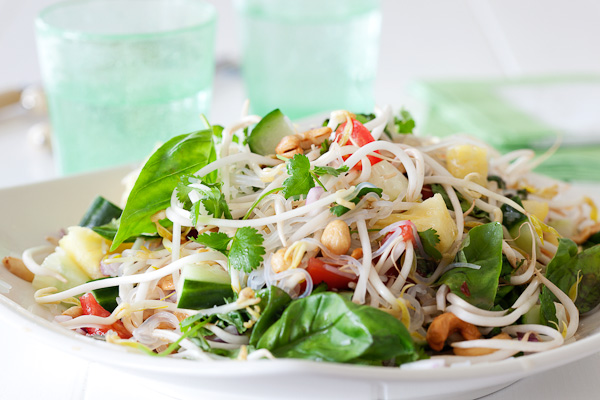 By
Ingredients
200g

bean thread vermicelli

1/2

cucumber, roughly chopped

12

cherry tomatoes, halved

handful coriander leaves

handful basil leaves

1

red onion, finely chopped

1

large handful mung bean sprouts

small handful mint leaves

1

cup chopped fresh pineapple

100g

roasted and salted cashew nuts

1 clove garlic, crushed and finely chopped

1 red chilli, finely chopped

1 tablespoon

chopped palm sugar (or brown sugar)

2-3 tablespoons

fish sauce

2 tablespoons

lime juice

1 tablsepoon

rice bran oil
Method
Soak the vermicelli in boiling water for 5 minutes, drain well and chop a little with kitchen scissors.
Combine vermicelli, cucumber, tomatoes, herbs, onion, sprouts and pineapple on a large platter or bowl.
Mix the garlic, chilli, sugar, fish sauce, lime juice and oil together in a small bowl.  Taste and adjust flavours as needed.  It should have a sweet, sour, salty flavour.  Drizzle dressing over salad, toss and serve.