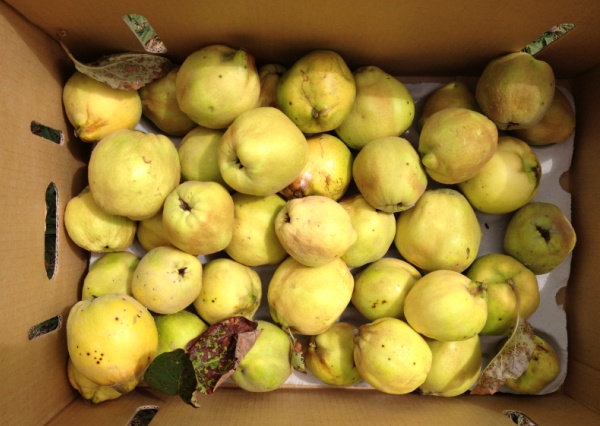 Our young quince tree pretty much doubles the amount of fruit it produces each year.
This year there are plenty for quince paste, jelly and poached fruit, next year I may be setting up a factory!

Last season the codling moth got there before I did so although the fruit looked gorgeous,  one chop of each revealed a labyrinth of dust and webs, making the fruit inedible.
After much complaining on our radio show, I received a variety of advice and natural remedies, I tried them all, one side of the tree had a coil to deter the moth pheromone and the other side had a pheromone trap to attract the moth.  The stem had a wrap of vaseline encased corrugated cardboard.  I have no idea which one worked, all I know is that we have at least 80 codling moth free quince!
Having only made quince paste once or twice before with varying results, with this many quince at my disposal it seemed necessary to try once again.  I can't stand in a kitchen stirring a pot of molten sugar and fruit for 3 1/2 hours though so have decided to try the slow cooker approach.  It seems way more sensible. I haven't bothered to weigh the fruit first and nor have I peeled them.  Why does anyone? Maggie Beer was the first in the Southern Hemisphere to make commercial quince paste and in her recipe she doesn't peel them so nor will I.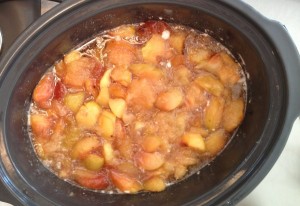 The quince are washed and roughly chopped and then placed in a saucepan with a small amount of water.  A small amount being about 1 litre to around 8 large quince.  The cores I have tied in muslin and put them in as well (extra pectin I think).  This I boiled until the quince are soft.  The water is then poured off, the cores discarded (both can be used for making quince jelly), and the fruit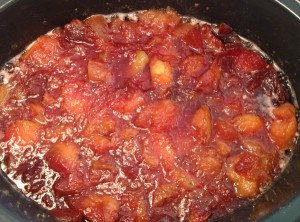 weighed.  Equal quantities of fruit and sugar are then placed in the slow cooker along with the juice of 1 juicy lemon.  The lid on and the mixture
allowed to cook on high for around 6 hours. As there is still a bit of liquid in the pan I allow it to bubble with the lid off.
Towards the end of this cooking I blended the mixture with a hand held blender.
My mixture is a beautiful deep pinky red but still more like jam than paste.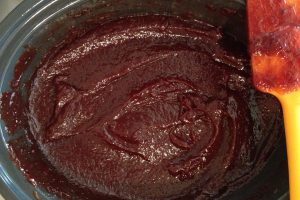 Maggie Beer says "Cook until you can hardly push the spoon through the paste".
Mine is definitely not that and I wonder whether my slow cooker has had enough heat to really get it to a paste.  It is with this in mind that I transfer the mixture into a heavy based saucepan and continue to cook, stirring, over a lowish heat for a further 20 minutes.  It is thick and it does look like setting so I pour it into a tray lined with buttered baking paper to a depth of around 2cm (ish).  I then leave it in the oven at 50 C for 4 hours until it feels firm and not sticky on top.
Next stop is the fridge to set it even firmer and then it is ready to chop and wrap.  While commercial pastes store well in the pantry, I am not leaving anything to chance so will wrap these pieces in clingfilm and refrigerate until we want them.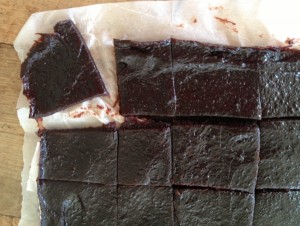 I am very grateful that the quince season is only once a year and also that I have a quince vodka on hand that has been distilling since last March.  Try it with lots of ice, soda and a slice of two of lime.