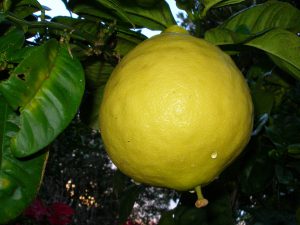 Virgil Evetts
It's true that the food garden is a mostly lifeless, dreary, place in winter, but a little sunshine can be found in the form of citrus. While I sometime curse the lack of local limes and their kin in the sweltering heat of summer, they are still most welcome when they do turn out- through these bleakest months of the year.
In my garden I have an unfeasible number of citrus trees which reflects my love of the fruit and my complete lack of self control in the backyard.
At present I have a moro blood-orange, an etrog citron, a Tahitian lime, a Key lime, a kaffir lime, a mandarin, a yen-ben lemon and finally my fruit of the moment- a  magnificent and benevolent ponderosa lemon.
This mammoth fruit- probably a cross between a lemon and a citron was once the lemon of choice for the kiwi backyard, but was superseded in the 60s and 70s by smaller fruited, hardier varieties such as yen-ben and the indestructible but rather blah meyer , an orange-lemon hybrid.
And what a shame that is. The ponderosa may not produce as many fruit as newer breeds but it pays its way with the staggering size of its fruit [easily over 1 kilo each], copious volumes of sharp, tangy juice and the heady fragrance of its zest.
The ponderosa is also among the most ornamental of citrus, with an open growth habit and those oversized, improbably yellow fruit- which last for as long for as you can resist picking them.
The ponderosa is a bit of a twofer fruit [as in two for one]. The juice – nearly a cup full per fruit-can be frozen for use throughout the year and the thick, swooningly fragrant rind makes the best glace peel I've ever tasted.
Due to it's decidedly boutique status, the ponderosa is very hard to get hold of. The only suppliers I'm aware of in New Zealand are Russell Fransham Subtropicals. Russell's a really nice guy  who knows his plants, delivers nationwide and his catalogue is well worth a peruse.
So…
Is anyone else out there growing a ponderosa?
Do you have a favourite backyard citrus variety?
Had enough freeby grapefruit yet?
Am I the only person who gets a slightly fetishistic buzz out of smelling my fingers after handling limes?
And if that's not enough for you,  here is a link to a pretty little  [sort of] lemon-themed song by the fabulous Dory Previn. As a child I interpreted the chorus very literally- evoking Munch Bunch-esque imagery. I have since realised it's actually about the far more mundane subjects of infidelity and betrayal. Less depressing than it sounds.