The tomatoes are like nothing I have ever seen before, their colour densely red and full of rich flavoured juice.  Maybe this has something to do with a summer of brilliant hot days, no rain at all, yet enough underground water to give the plants the moisture they need to grow.


All of the produce in Turkey late summer is truly a food lovers dream and much to my husband's despair I have over 500 food photos to prove it!
The food, as we quickly find, is very produce driven and feels totally healthy.  Many of our every day meals are based on loads of salads and delicious grains such as bulghur wheat, served alongside grilled lamb, beef or chicken, either minced with aromatic spices or as chunks on skewers.
August markets are full of peaches are large as your fist with all the attributes that sun ripened fruit should have.  There are also mountains of figs, capsicums, chllies, nuts, eggplant, beans and loads of herbs and greenery.




The mulberries and apricots have finished but a tipple of mulberry wine fulfils the flavour memory and a reminder of the need to visit earlier in summer.
While the produce varies around the country, the most marked difference were the stalls full of fresh oranges and trees with almost ripe pomegranates, down on the Aegean coast.
This trip is a very special treat and one that is well researched with a mix of food, nature, smaller towns and markets aplenty.  Aside from Istanbul we really do try and shy away from the major tourist destinations and it works well for us.  Ed's dark complexion creates some humour as he is mistaken for being Turkish on more than one occasion.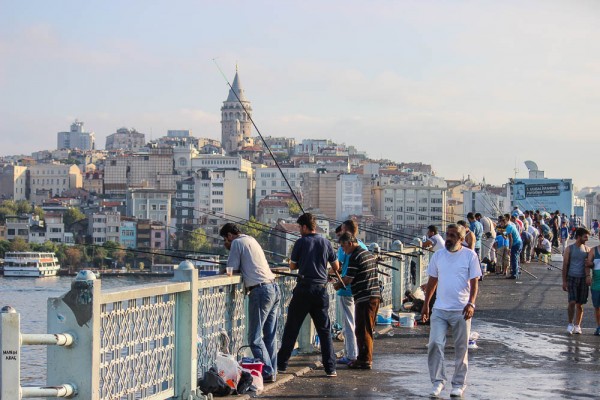 Istanbul is one of the most charming and beautiful cities in the world.  The harbour setting means that the impressive mosques and Topkapi palace are a commanding presence from the water and the varying shores have their own special identity.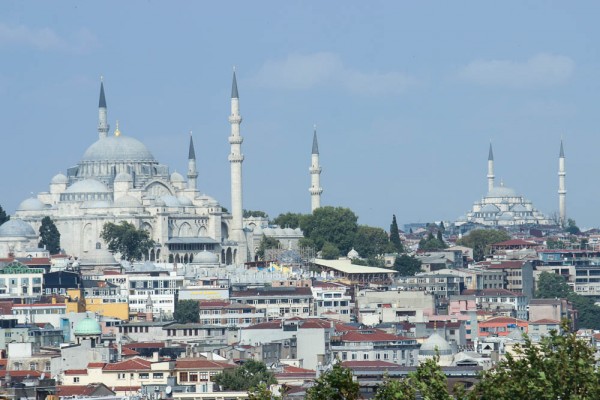 We stay in Sirkeci, the old part of Istanbul where the Grand Bazaar, spice market, Blue mosque, Topkapi Palace and Hagia Sophia are all within walking distance.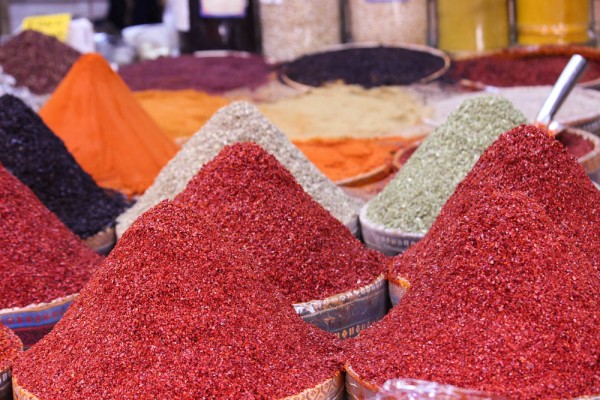 While these are essential tourist destinations, it is, I think, best experienced and then left behind.  The restaurant food in this area is very much designed for tourists and the quality, prices and service are reflective of this. Likewise the Grand Bazaar is overwhelming in its choice of jewellery, fake sporting gear etc… but it would take product knowledge and interest in haggling to make any purchasing worthwhile.  In temperatures of 30° plus, we quickly become selective of what is worth the effort.


We quickly fall in love with the more local feel of Kadikoy (on the Asian side); this is only a 15 minute ferry ride from the old side but is a complete contrast.  A day spent with Olga from Delicious Istanbul is very well spent time and $$.  Ed and I have Olga to ourselves (group maximum is 6) and walk our way around Olga's favourite food destinations in Kadikoy, eating as we go. Breakfast is the very popular menemen, a one dish mixture of whisked egg gently cooked with softened peppers and tomatoes.  The coffee, sardines, nuts, salads etc… are all wonderful but it is the baklava that truly wins me over.  A taste sensation like no other and one that I have waxed lyrical on over on a Baklava blog.
Turkish delight made with pomegranate and pistachios and then wrapped in rose petals is also extraordinary and stands alone amongst any of the other confections.
Many Foodwriters have made mention of Ciya Sofrassi restaurants, these are also here in Kadikoy, meze plates are self select and then priced by weight and large pots of meat dishes can be viewed and selected.  The food is honest and tastes so good that we return for dinner on the same day that we stop for lunch.
From Istanbul we have a quick flight to Antalya, a bustling seaside city on the Mediterranean Coast. It looks big and busy so we have planned to pick up our car and head further down the coast to Cirali, hopefully arriving before dark.  A rental car devoid of fuel and some confusion with baggage puts paid to this but we still find our way along the pot holed dirt road to the slightly alternative beach of Cirali. Our chalet is in a beautifully fragrant orange grove, bordered with fragrant figs and pomegranates,  we are pleased to be away from city lights. Cirali is a fairly quiet small beach, protected as a logger head turtle nesting spot.  While we are concerned at the sun loungers and umbrellas that cover big chunks of the beach, the larger hotels chains are unable to build here and in reality the beach is supposed to be clear for the turtles.  We arrive at the tail end of hatching season, but a walk at dawn enables me to realise a dream as I watch tiny turtles hoist themselves out of their sandy nest and instantly make their way to the water, their little heads bobbing for air as they follow their instinct and head off to sea.  While nature is left to nature, the nests are protected from unsuspecting footprints and dogs, and the watchmen give the turtles a small helping hand out of their nest, recording numbers etc…
Cirali has a line up of beachside cafes with Ikiz being our favourite place for great quality Turkish fare at a very fair price.
Our next step along the coastline is the very quaint town of Kas, the rocky coastline means either diving from a ledge into the beautiful blue Med or descending more sedately via a ladder from the numerous sunlounger terraces around the bay.  Boat trips head out daily from here to spot underwater ruins and visit islands, we are happy on our sun loungers and frequenting the delicious Enistenin Yeri when hunger calls
Their food is fabulous and we love their wood fired pide topped with fresh dill, olive oil and garlic that arrives at the table as you sit down for dinner.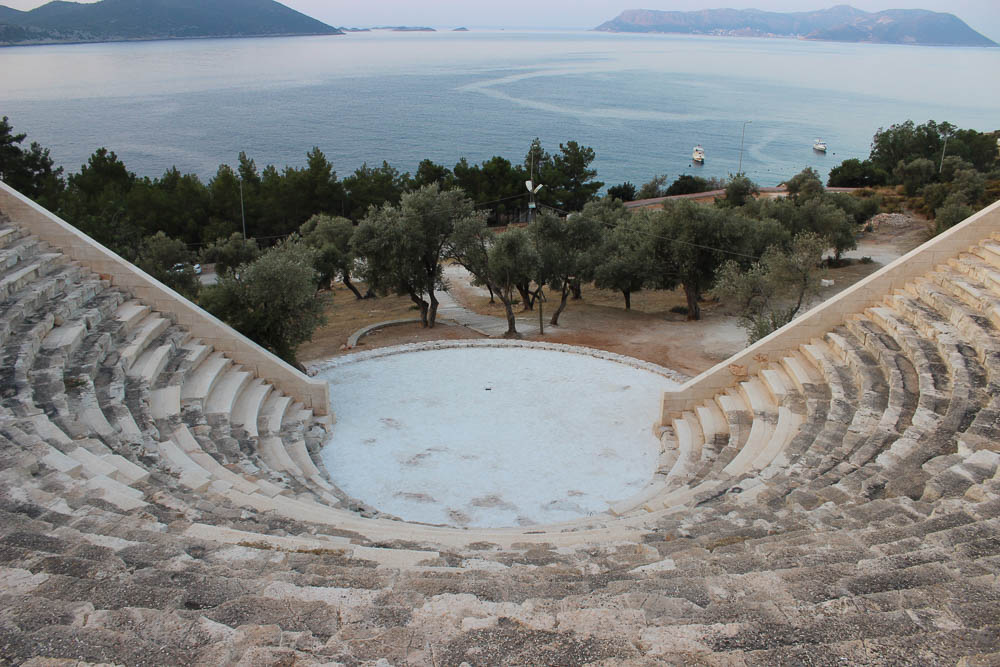 Kas to Fethiye is only a couple of hours and while many tourists enjoy selecting their fish from the local fish market and having it cooked at the restaurants alongside, we thought that fell flat and instead loved our time at Karakoy – about 15 minutes over  the hill from Fethiye in the prettiest of valleys.  Once again it is rural and peaceful, yet full of delicious fare, with gardens bursting with the fruit and vegetables of the season.  Villa Rhapsody is a wonderful haven and the food worthy of having a relaxed dinner "in", sitting out by the pool. I am still dreaming of the yoghurt soup and will hopefully have the recipe to share very soon.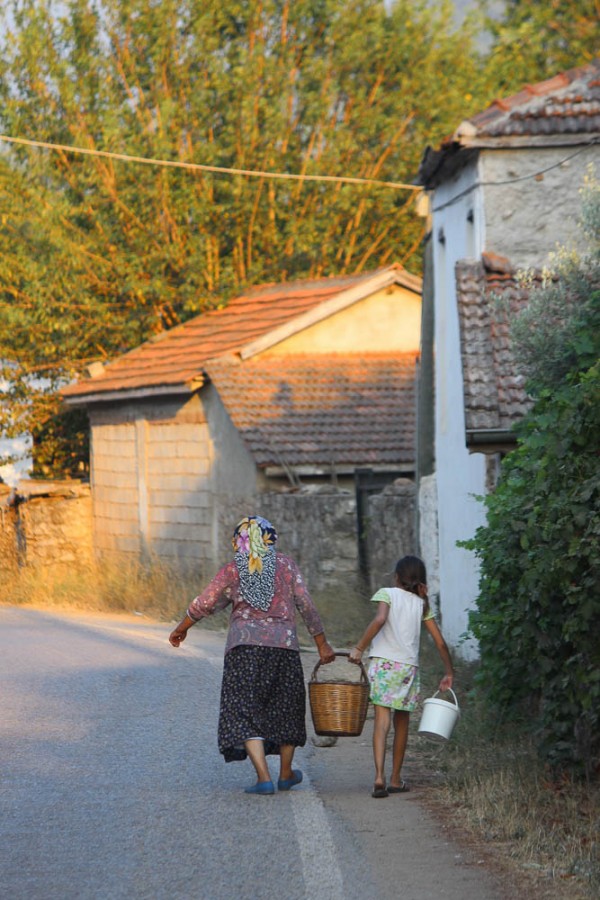 You probably cannot visit Turkey without a trip to Ephesus (many would say Cappadocia and Gallipoli as well), and for very good reason.  Looking at architecture that is thousands of years old and hearing the history, certainly puts life into perspective.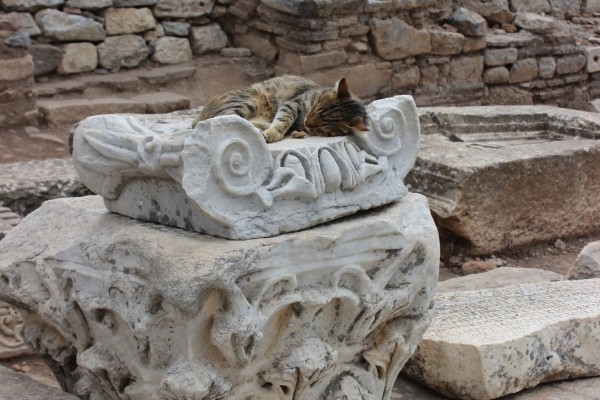 About 40 minutes from Selcuk (Ephesus nearest town) is a small hillside town Tire, that is famous for its Tuesday market that seems to take up most of the town centre. Set in steep narrow cobbled streets, you wander through quantities of fresh and dried produce to cottons and linens and household essentials.  Tourists here are a rarity and photos a delight, be prepared to show your screen to those whose faces your capture.  The people here are some of the nicest we have met and that is saying something as we both agree that the Turkish people all along the way have been extraordinarily generous,  warm and friendly.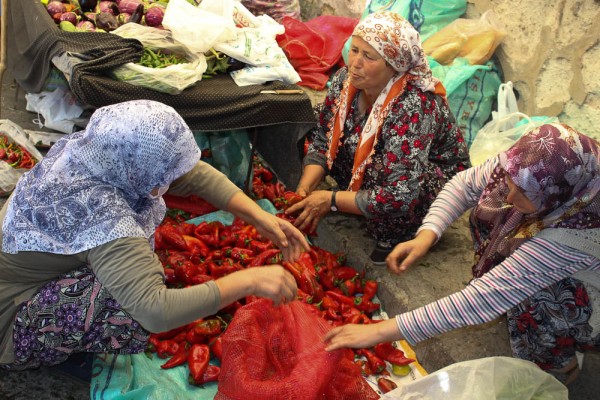 Our taste of Turkey was small but extremely memorable and has been a stand out holiday for both us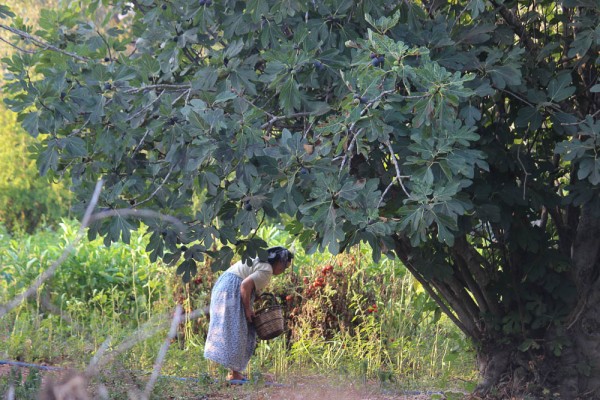 A few of our favourite recipes include; (and yes there will be more)
Recommended Places to Eat and Sleep
Orient Express Hotel, Sirkeci, Istanbul
Meze by Lemon Tree, Istanbul.
Hideaway Hotel, Kas
Onur Pide, Tire  (ph 512 17 99)
Villa Rhapsody Kayakoy
Hotel Nilya, Selcuk
Selcuk Koftecisi, Selcuk (way better than any hotel food and such a bargain) Open for lunch and dinner.
Ciya Sofrasi, Kadakoy, Istanbul (pay for meze plate by weight and select meats of choice)  Open for lunch and dinner.
Has anyone else got any Turkey tales to share or planning a holiday?
Me and the Turk :)