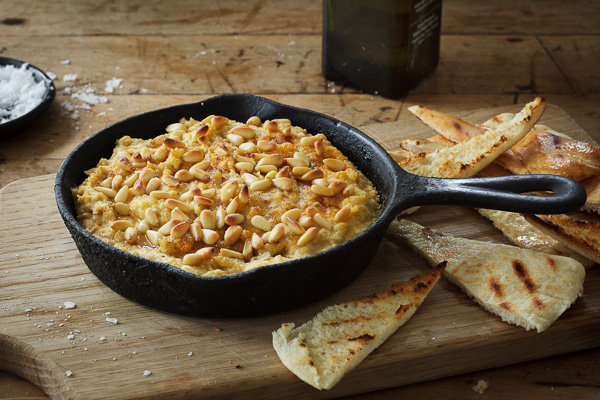 Ingredients
1 x 400g can chickpeas, drained and rinsed

2 cloves garlic, roughly chopped

2 tablespoons lemon juice

2 tablespoons tahini

salt to taste

1 teaspoon ground cumin

3 tablespoons extra virgin olive oil

1/2 teaspoon paprika

1/4 cup pine nuts
Method
Preheat oven to 200 C.
Place chickpeas, garlic, lemon, tahini, salt, cumin and 2 tablespoons of water in the food processor and pulse until well mixed and almost smooth.  If the consistency is too thick then add a little more water and pulse again.
Mix through 2 tablespoons of the olive oil, taste and adjust seasoning to suit. You can add more tahini, lemon, cumin or salt as you like.
Spoon the hummus into an ovenproof dish that is suitable to go from oven to table.
Sprinkle with paprika, scatter with pine nuts and drizzle with remaining oil.
Heat in the oven for 10 minutes and then serve immediately with toasted pita wedges.