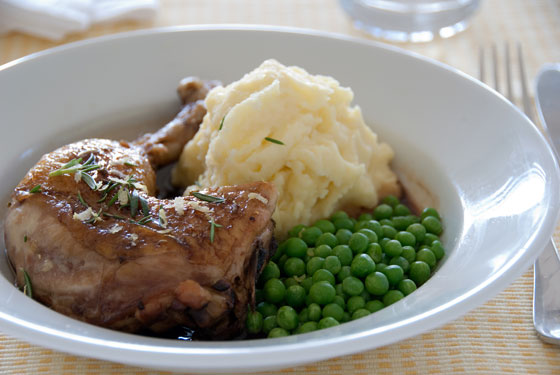 Ingredients
2 tablespoons

olive oil

4

chicken legs, skin on

3

cloves garlic, chopped

2 tablespoons

finely chopped rosemary

4 tablespoons

balsmic vinegar

2 tablespoons

brown sugar

1 cup

quality chicken stock

salt and ground black pepper

finely grated rind of 1 lemon

1/4 cup

pine nuts, toasted
Method
Preheat oven to 180 C. Heat the oil in a large frying pan and brown the chicken on both sides. Remove the chicken to a baking dish and transfer to the oven. Cook chicken for 15-20 minutes or until juices run clear when flesh is pierced.
Meanwhile pour off excess fat from the frying pan and then gently cook the garlic and rosemary until garlic is tender. Increase heat and pour over the combined balsamic vinegar, brown sugar and chicken stock. Allow to bubble and reduce until sauce consistency. Season to taste with salt and pepper.
Serve the chicken with the balsamic sauce spooned over, sprinkle with lemon, pine nuts and extra rosemary if desired.