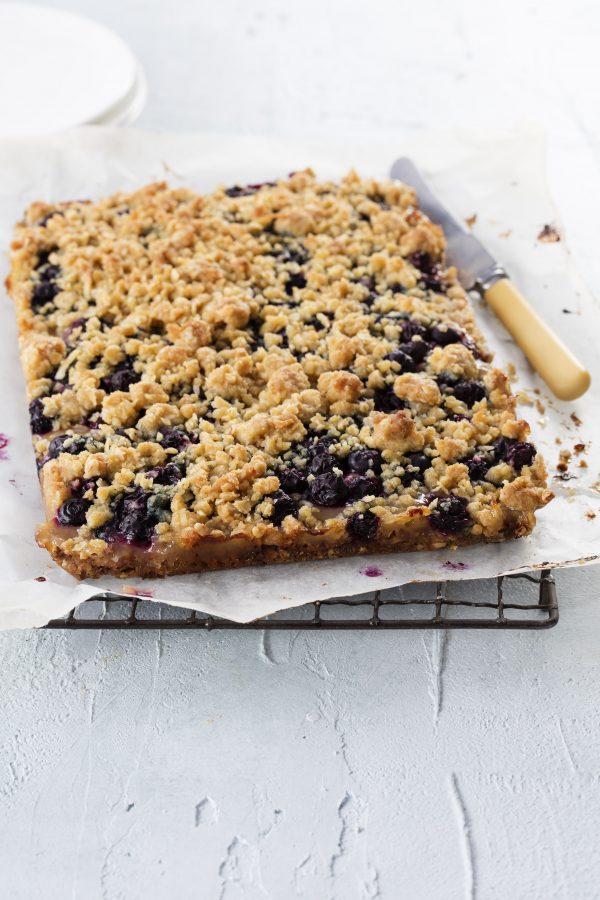 This slice is positively delicious and so easy to make.
It is just as good with fresh or frozen blueberries.
Ingredients
1 cup

flour

1 cup

rolled oats

1/2 cup

coconut

1/2

teaspoon baking soda

1/2 cup

lightly packed brown sugar

1/4 cup

white sugar

175g

butter

1 teaspoon

vanilla extract

1 cup

lemon curd

1 1/2 cups

blueberries
Method
Preheat the oven to 180 C (350 F).  Grease and line a 28 x 18cm (11 x 7 inch) slice tin.
Mix the flour, oats, coconut, baking soda and sugars together in a mixing bowl.
Melt the butter and add to the bowl along with the vanilla, mix well.
Press half of the oat mixture into the slice tin and bake for 15 minutes or until well coloured.
Allow to cool for 15 minutes before spreading over the curd in an even layer.
Cover with blueberries and then crumble over the remainder of the oats.
Bake for a further 10-15 minutes until the topping is golden and crisp.
Allow to cool completely in the tin and on warmer days you may find it easier to slice once it has been fridge chilled.
Once chopped into pieces store in an airtight container in the fridge.