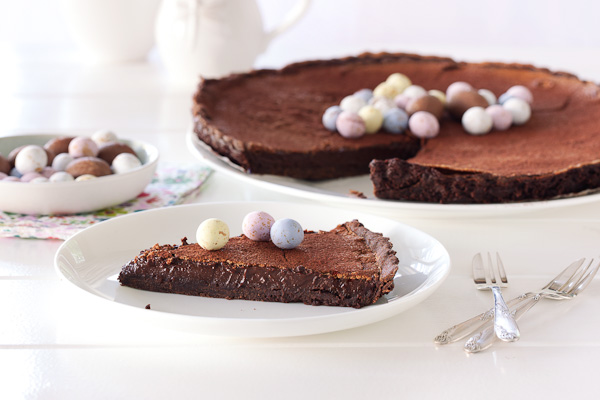 Ingredients
1 3/4 cups

flour

1/4 cup

cocoa

1/4 teaspoon

salt

1/4 cup

sugar

125g

butter, well chilled and chopped

1

egg

1 1/2 cups cream

3/4 cup

milk

225g

dark chocolate, chopped

3/4 cup

caster sugar
Method
Place flour, cocoa, salt and sugar into the bowl of a food processor, with the motor running drop butter in, piece by piece, until the mixture resembles coarse crumbs.  Drop in egg and 1-2 tablespoons chilled water until the mixture just comes together into a ball.  Wrap dough in plastic clingfilm and refrigerate for 30 minutes.
Preheat oven to 200 C.  Roll out pastry and fit into a 28cm pie dish.  Cover with baking paper and weights (rice and other grains are useful) bake for 10 minutes and then remove weights and bake another 5 minutes.  Remove from heat and reduce oven temperature to 150 C.
Heat the cream, milk and sugar in a small saucepan, stirring to dissolve sugar. Remove from heat as soon as it reaches the boil. Stir through chocolate, mix until smooth and then allow to cool. Lightly whisk egg and then stir into chocolate mixture.
Pour filling into baked pastry shell and bake for 20-30 minutes until set around the edges but still some wobble in the centre.  Allow to cool completely before slicing.
For an Easter festive approach, sprinkle the top of the tart with little candy coated and chocolate eggs.