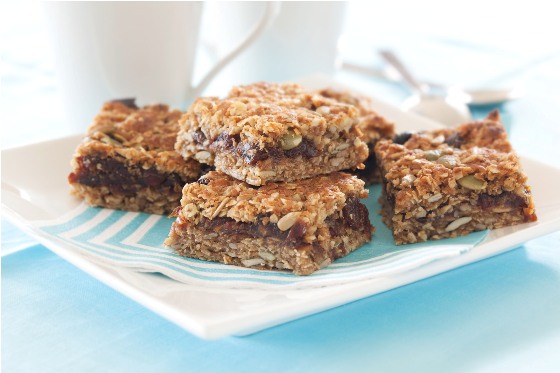 Ingredients
200g

dates, chopped

100g

dried apricots, chopped

100g

raisins

1/2 cup

boilng water

1 teaspoon

vanilla

225g

butter

2 cups

rolled oats

1/2 cup

pumpkin seeds

1/2 cup

sunflower seeds

1 cup

flour

1 cup, packed

brown sugar
Method
Soak the dates, apricots and raisins in boiling water for 20-30 minutes.  Drain well.
Preheat oven to 180 C.  Grease and line a 28cm x 18cm slice pan.
Melt butter and then add vanilla.
Combine oats, seeds, flour and brown sugar in a bowl and mix in butter.
Press half the mixture into the slice pan and then cover with the fruit.  Top with the remaining mixture.  Pressing pieces together to seal.
Bake for 30 minutes and then allow to cool completely before cutting into pieces (I find it easier to cut after waiting a day).