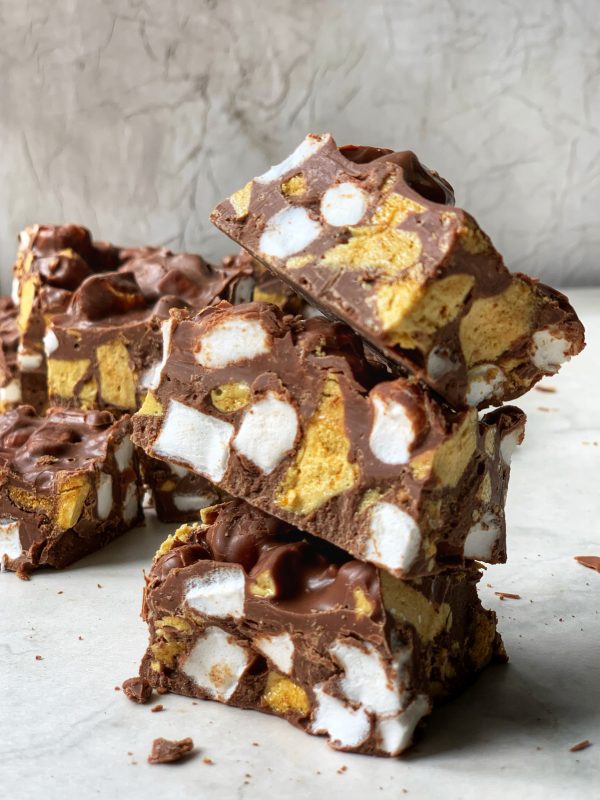 This is so simple to make, the only thing that can trip you up is the hokey pokey.  Make sure that you are not tempted to add any extra golden syrup and keep your spoon measures level.  Too much golden syrup can cause hokey pokey not to set.
Make sure you boil the sugar syrup until an amber colour – similar to maple syrup.
The rest is easy and the texture/flavour is so good!
Ingredients
6 tablespoons (90ml)

golden syrup

3/4 cup (170g)

caster sugar

2 scant teaspoons (as in just under level)

baking soda

500g

milk chocolate

75g

small white marshmallows
Method
Place the golden syrup and sugar in a small saucepan and bring to the boil over a gentle heat.  You can stir a little until it starts to boil but then leave it undisturbed.
Once the syrup reaches an amber colour – about 5-7 minutes of boiling – and a little syrup in a saucer of cold water immediately sets, then remove it from the heat and quickly add the baking soda and stir to mix.  The mixture will more than double in volume.  Spoon it out onto a baking paper lined board and allow to set.  Once solid then smash the hokey pokey into pieces with a rolling pin or chop with a heavy knife.
Gently melt the chocolate in a bowl over a saucepan of simmering water.
Once it starts to melt then turn off the heat and leave to sit for a few minutes before stirring until smooth.
Combine the hokey pokey and marshmallows in a bowl and pour over the chocolate.  Quickly mix and then pour into a baking paper lined slice pan.  Refrigerate until just set, this will take about an hour.  Chop into chunks and store in an airtight container.