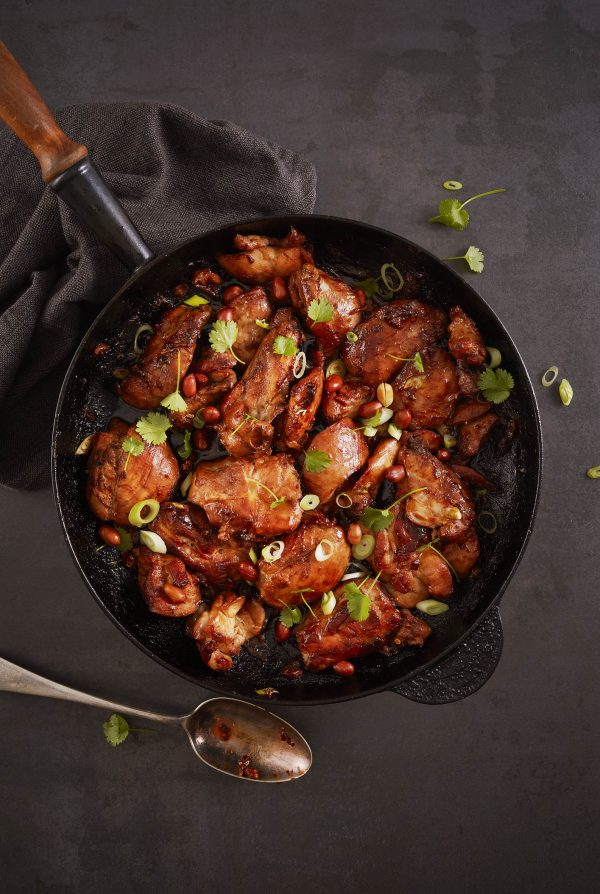 This is such great fried chicken, a real family favourite.
Some of the ingredient list may be different to your regular pantry items, they are worth seeking out as once you make this you will be asked for it again and again.
Szechuan peppercorns have a mouth numbing ability,  use a little to start with and then add as you like.
I find that chicken thighs seem to disappear a bit when cooking so do make sure you don't skimp on quantity.
Chinese Black vinegar is a little like balsamic vinegar however they are not interchangeable.  To get to an acceptable substitute you could mix equal quantities of rice vinegar and balsamic vinegar although it isn't as good as the real thing.
Ingredients
650g

chicken thigh fillets, roughly chopped

2 tablespoons

soy sauce

2 teaspoons

cornflour

2 tablespoons

Chinese black vinegar

2 tablespoons

Chinese rice cooking wine

2 tablespoons

sugar

2 teaspoons

grated ginger

2

cloves garlic, finely chopped

2

teaspoons sesame oil

2 tablespoons

neutral cooking oil

5

large dried chillies, roughly chopped, seeds discarded

4

spring onions, sliced and then separate whites and greens

freshly ground Szechuan peppercorns

1/3 cup

roasted peanuts

small handful

coriander leaves
Method
Place the chicken into a non reactive shallow dish.
Whisk together the soy sauce and cornflour and then pour over the chicken along with the  vinegar, rice wine, sugar, ginger, garlic and sesame oil.
Refrigerate for at least 30 minutes and longer if possible.
When you are ready to cook, heat a large frying pan over a high heat.  Add a film of oil, add the chillies and cook for about 30 seconds until fragrant and slightly blackened.
Lift the chicken from the marinade and cook until well coloured on each side.  Depending on the pan size you may need to do this in batches.
Once the chicken is cooked add the whites of the spring onions to the pan and scrape the remaining marinade into the pan.  Allow to bubble for a couple of minutes.  If the pan is dry then add a little water.
Cover with a generous grind of Szechuan peppercorns, depending on how much you like them.
Serve garnished with peanuts, spring onion greens and coriander leaves.
We like to serve this with roti bread and shredded lettuce but it is also good with rice and steamed greens.