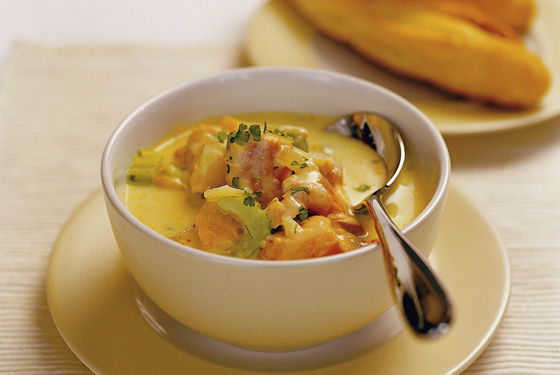 serves 4
Ingredients
2 tablespoons butter
1 large onion
1 garlic clove
2 kumara, peeled and diced
1 celery stalk, sliced
1 bay leaf
1 teaspoon dried tarragon
2 cups fish stock
2 tablespoons flour
2 cups milk
200 g Regal Wood Roasted Salmon, flaked
salt and pepper
2 tablespoons chopped parsley
Method
Melt the butter in a large saucepan, add the onion and garlic and cook over a medium heat for 5 minutes. Add the kumara, celery, bay leaf, tarragon and stock. Simmer for 10 minutes or until the kumara is just cooked.
Mix the flour to a smooth paste with a little milk. Add the remaining milk and stir. Stir the milk mixture into the stock and add the salmon.
Add salt and pepper to taste. Bring to the boil, stirring gently. Remove the bay leaf.
Serve garnished with the chopped parsley.