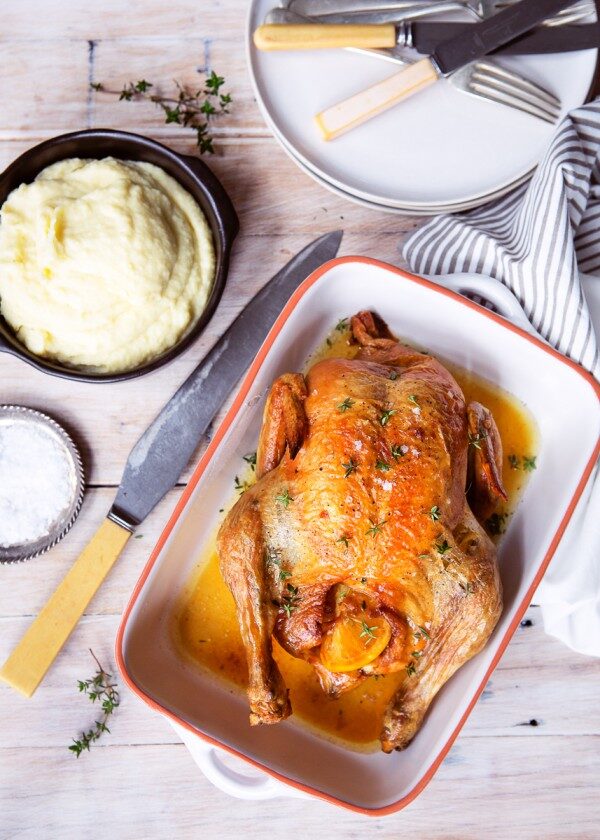 Ingredients
1

size 16 Free Range chicken

2 cloves

garlic, halved lengthwise

1/2 lemon

lemon

2 teaspoons

thyme leaves

1kg

celeriac, peeled and chopped

1 large

floury potato, peeled and chopped

garlic, roughly chopped

100ml

cream

25g

butter
Method
Preheat the oven to 180°C.
Remove the chicken from the fridge at the same time as the oven is turned on.
Rub the chicken with a little olive oil, sit in a roasting dish with the breast side up, pop the lemon and garlic into the cavity, sprinkle liberally with salt and freshly ground black pepper and scatter over thyme leaves.
Roast for 90 minutes in the lower part of the oven.
Remove from the oven, cover and allow to rest for 15 minutes prior to carving.
Place the celeriac, potato and garlic in a saucepan and cover with cold water, season with salt.
Bring the water to the boil and simmer for 20 minutes or until the vegetables are tender.
Drain well.
Heat the cream until almost boiling and pour into the saucepan along with the butter.  Press through a potato ricer or blend with a stick blender until smooth.
Serve celeriac mash with roasted chicken and steamed greens.