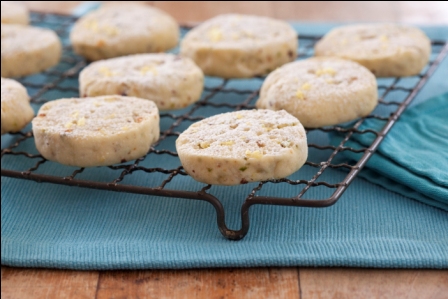 250g butter
3/4 cup caster sugar
2 cups plain flour
1/2 cup rice flour
1/2 cup chopped pistachio nuts
1 tbsp finely grated lemon rind
2 thsp icing sugar
2 tsp finely grated lemon rind
Method
Preheat oven to 160 C.  Beat butter and sugar until pale and creamy.  Mix in sifted flour and then pistachio nuts and lemon and mix well.  Wrap dough in clingfilm and refrigerate for 30 minutes.  Roll out to approximately 1.5cm thick and cut with a cookie cutter.  Place on a cold tray and bake for 15 minutes until firm.
Cool on a wire rack.
When cold, dust with sifted icing sugar and sprinkle with extra lemon rind.