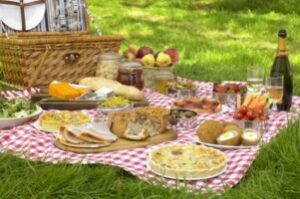 During  January, along with many New Zealanders  we plan to head to the beach, enjoy a summer break and do as little as humanly possible. 
I have been rustling in cupboards searching out insect repellent, hats and picnic rugs. Food for the week will be totally al fresco with meals eaten outdoors and weather permitting there will be lots of picnics.
Summer and picnics go together and New Zealand has a plethora of perfect spots to choose from.  Barbecues are often provided in picnic areas although you do need to check the policy in summer before arriving with food that needs to be cooked.
Organising social catch ups in a picnic situation is ideal, there is no mess to clean up afterwards and you don't need to worry about enough seats and table settings for large groups.
A picnic as an excuse to indulge in the freshest the season has to offer and should be a medley of wonderful taste sensations.  It needs to be eaten with fingers and the only cutlery needed is a sharp knife and a wine opener.  
Meats on the bone such as chicken drum sticks and lamb cutlets work well as they have their own natural handle and you can hold them in one hand.  Think of various coatings and dipping sauces to serve with them.  
Stuffed lamb cutlets
sticky chicken nibbles 
Bread is essential for picnics and should be bakery fresh and preferably artisan made with a great crust.  Pita bread pockets make great containers for tasty fillings.
Pastry makes a perfect casing for picnic fare and most of us grew up with the picnic bacon and egg pie.  Tomatoes, peas, cheese and chutney are all acceptable additions and if you can still find asparagus then try that as well.
Open tarts using puff pastry spread with toppings such as caramelised onion, or tomato, brie and basil are quick and easy to make and also look great.
courgette tart
bacon and egg plus pie
bacon and egg no pastry pie
ham, corn and cheese quiche
Eggs are great for picnics, try boiled eggs with a sprinkling of dukkah or a frittata stuffed with sweet peppers and feta.
sweet pepper frittata
picnic eggs
pasta frittata
Loaves of any descriptions are good for picnics – whether it is a meatloaf or a sweet banana loaf with coconut or nuts for texture.
gingerbread
banana coconut bread
Whatever you fancy keep it fresh and tasty, remember that summer heat can be unfriendly to food so freeze water bottles or juice the night before and keep the chilly bin cool with frozen pads.
Try this stunning recipe from Kapiti on for size!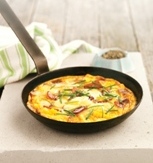 Fresh sweet corn and crispy pancetta omelette with Tuteremoana cheddar and chives
Ingredients:
3 eggs per omelette whisked gently together and seasoned
Sea salt and black pepper
Chives cut into battens 2cm long
Butter
1 fresh corn on the cob, peeled and the cut off the cob
Pancetta lardons
Tuteremoana cheddar, grated or chunks
Method
In a hot 20cm non-stick pan, put your corn kernels and pancetta lardons and sauté until the pancetta become nicely browned, and the corn has softened in the bacon fat. If there is excessive fat you can drain a little off using an absorbent towel. Throw in a small knob of butter until it starts bubbling then add in the beaten eggs. With a spatula move the mixture around so it begins to set, then take off the heat. Drop over the cheese and then place under a hot grill just until the cheese begins to melt and the egg has just set. Slide the omelette onto a plate,(don't fold it). Then sprinkle with some chive battens.
Add a small dollop of crème fraiche to finish.
For more information please click here