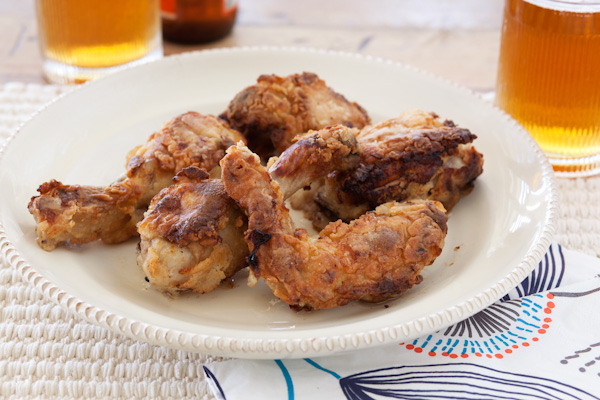 While it is difficult to make fried chicken look delicious, I assure you this is crunchy, moist and tasty.  The buttermilk gives the chicken an interesting tang and also ensures that the chicken is really moist, even after being fried.
Ingredients
1.6kg chicken pieces

600ml buttermilk

2 cloves garlic, crushed and chopped

1/2 teaspoon cayenne pepper

1 teaspoon sea salt

1 1/2 cups flour

1 teaspoon paprika

1 teaspoon salt

oil
Method
Place the chicken in a large resealable plastic bag and pour in the buttermilk along with the garlic, cayenne pepper and salt.  Squeeze the air out of the bag and then seal the bag and squeeze to rub the buttermilk over the chicken.  Refrigerate overnight or up to 24 hours.
Combine the flour, paprika and salt in a large shallow plate. Lift the chicken from the marinade and dredge through the seasoned flour.  Sit on a single layer on a tray.
Heat oil to a depth of 1cm in a large frying pan, when hot, cook the chicken in batches until golden on each side and thoroughly cooked through.  Drain on paper towels and serve hot.
*  Alternatively preheat the oven to 200 C and finish cooking the chicken in the oven once it has been browned.
* Chopped herbs such as thyme and rosemary can also be added to the buttermilk marinade.