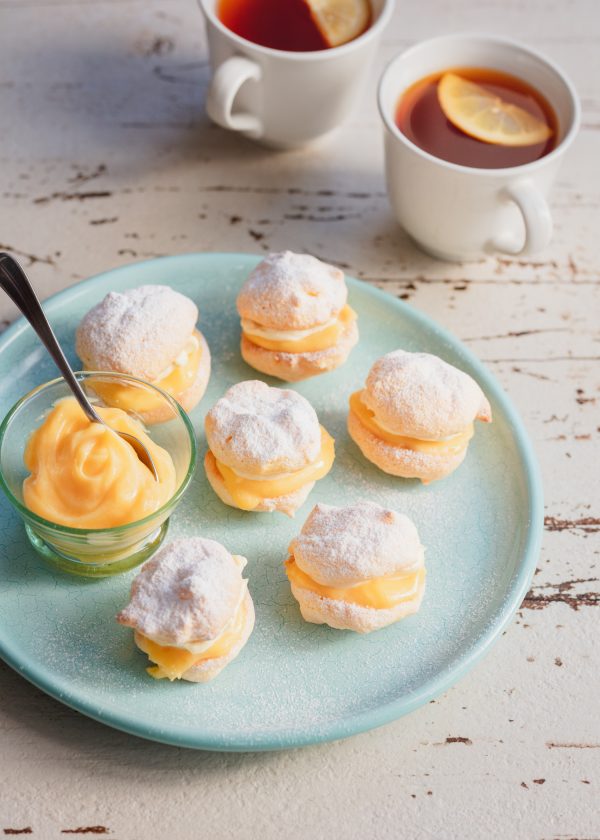 Light, fluffy and oh so delicious, Powder Puffs (aka sponge drops) are so easy to make and are even better when frozen ahead of time.
Mary Wilmshurst was a regular contributor to foodlovers back in the early days, around 2004.  Aside from engaging in our forum conversations, Mary was most known for her Powder Puff recipe.
Brooke, Mary's granddaughter recently made contact with us to find out more about her grandmother's interest here.  It prompted me to bake and publish Mary's recipe with only one tweak.
Mary uses 1 teaspoon cream of tartar and 1/2 teaspoon baking soda.
I have changed that to 1 1/2 teaspoons baking powder, only because I don't usually have cream of tartar in the pantry.
Ingredients
2 eggs separated

pinch of salt

1/3rd cup castor sugar,

1/2 teaspoon vanilla,

1/3rd cup cornflour

2 tablespoons plain flour (level)

1 1/2 teaspoons baking powder (or 1 teaspoon cream of tartar and 1/2 teaspoon baking soda)

jam or citrus curd

thickened cream or whipped cream

icing sugar to dust
Method
Preheat the oven to 190 C.  Line a baking tray with baking paper.
Whip egg whites and salt. Gradually add sugar and beat well. Stir in vanilla, egg yolks and sifted dry ingredients. Place in teaspoon lots on the tray.
Bake for 8 – 10 minutes.
Best baked 1 tray at a time in the centre of oven for even colour.
Remove immediately  to a wire rack to cool.
Sandwich with whipped cream and jam (or curd)
Place in a container and refrigerate for 1 – 2 hours or longer.
The longer the better. I do them the night before for use the next day, or at this point put them in the freezer. They puff up and become soft and light.
Sprinkle with icing sugar before serving