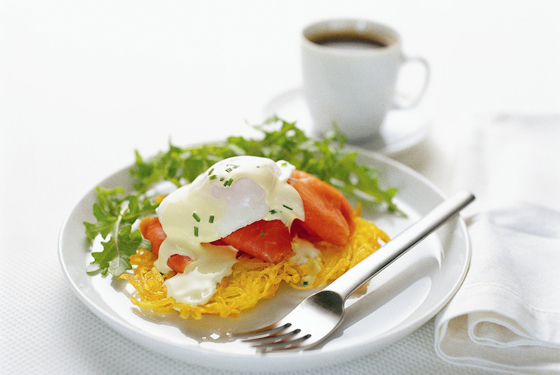 serves 4
Ingredients
600 g starchy potatoes, such as Agria, peeled
salt and pepper
2 tablespoons olive oil
4 eggs
100 g Regal Cold Smoked Salmon
hollandaise sauce
chopped chives
rocket leaves
Method
Boil the potatoes for 8 minutes or until they are half cooked. Remove from the heat, drain and grate. Place the grated potatoes in a bowl and mix in the salt and pepper. Form into 8 patties, leaving the edges ragged.
Heat the oil in a frying pan and cook the potato rosti over medium heat for 2 to 3 minutes on each side or until crisp and golden.
Meanwhile, poach the eggs to your liking. To serve, place 2 rosti on each plate. Top with folded salmon slices, a poached egg and hollandaise.
Garnish with chopped chives and serve with rocket.