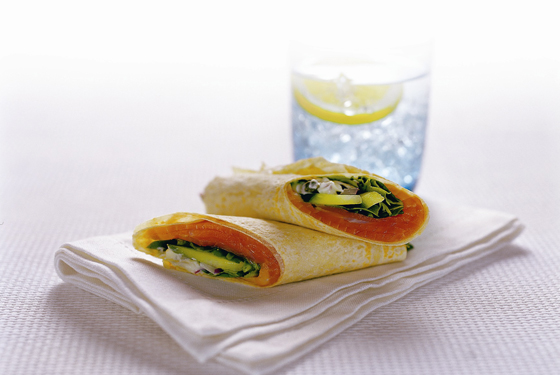 serves 4
Ingredients
1/2 cup mayonnaise
1 tablespoon chopped fresh dill
1 tablespoon lime juice
4 large flour tortillas or turkish flat bread
200 g Regal Cold Smoked Salmon
1-2 cups baby salad leaves
1/2 small telegraph cucumber, cut into strips
1 small red onion, sliced thinly
1 tablespoon capers (optional)
Method
Combine the mayonnaise, dill and lime juice in a small bowl.
Place 1/4 of the smoked salmon along one side of the tortilla or flat bread, about 3 cm from the edge.
Add the salad leaves, cucumber, onion and capers if used.
Spoon the mayonnaise evenly over the top, roll up tightly to secure. Cut in half and serve.