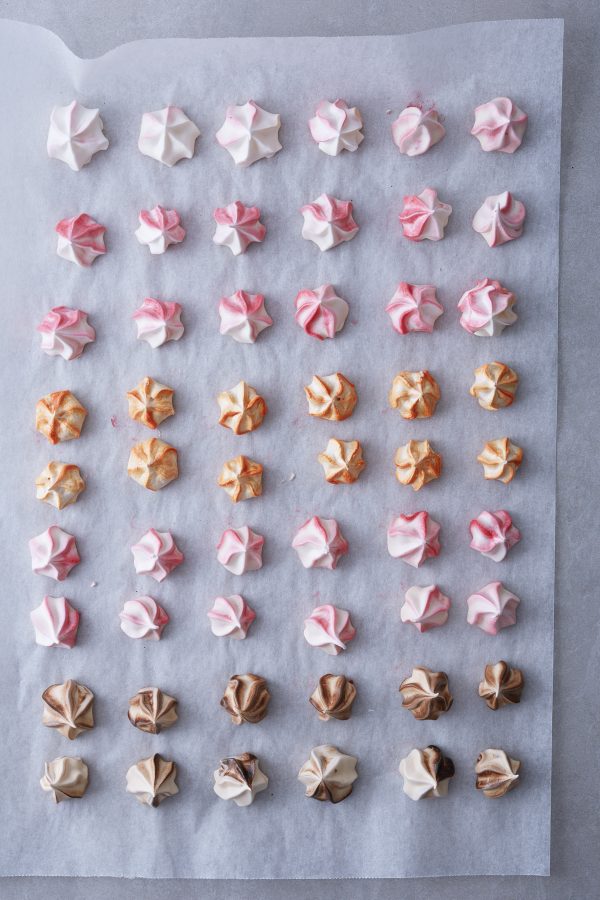 These sweet little kisses are so pretty and super easy to make.
They are great for gifts or as a special sweet treat.
Yield:
Makes around 50 mini meringues.
Ingredients
3

size 7 egg whites

3/4 cup

caster sugar

1/2 teaspoon

white wine vinegar

food colours and flavours
Method
Preheat the oven to 100°C and line a baking tray with baking paper.
Beat the egg whites until lightly frothy and then with the motor running gradually add the sugar until the mixture is thick and glossy and the sugar completely dissolved. This will take 5-7 minutes. Lastly mix in vinegar.
Fit a .5cm star or round nozzle into a piping bag. Brush the inside the bag with your colour of choice.
Spoon about 1/2 cup of meringue mixture into the bag, adding a few drops of flavouring to match the colour.  Pipe kisses onto the tray, the kisses will come out striped in the colour used.  Either prepare different piping bags in the same way or clean the bag between each colour.
Bake for 1 hour or until the meringues feel firm and sound hollow when tapped on the base.  Turn the oven off and allow to cool in the oven.